Replaced by the 1064_1B - PhidgetMotorControl HC. It is the exact same device, but you can now choose which USB cable you want to have included.
The PhidgetMotorControl HC allows you to control the angular velocity and acceleration of up to two high-current DC motors.
The 1064:
Provides bi-directional control to 2 DC motors
Requires external 6 to 15VDC Power Supply
USB port is isolated from the motor control outputs
Over voltage, over temperature, over current conditions are fed back to the API on the PC
Many variations of brushed DC motors exist: permanent magnet motors, electromagnet motors, coreless motors, linear motors... the PhidgetMotorController can be used with any of these.

Comes packaged with
A Hardware mounting kit (4 nuts and bolts (M3), 4 plastic spacers)
Product Specifications
Controller Properties

API Object Name

MotorControl

Motor Type

DC Motor
Number of Motor Ports
2

Velocity Resolution

0.79 % Duty Cycle

Acceleration Resolution

1.9 % Duty Cycle/s

Acceleration Min

1.9 % Duty Cycle/s

Acceleration Max

1940 % Duty Cycle/s

Acceleration Time Min

52 ms

Acceleration Time Max

105 s

PWM Frequency Max

20 kHz

Board Properties

Controlled By

USB

API Object Name

DCMotor
Electrical Properties

Supply Voltage Min

6 V DC

Supply Voltage Max

15 V DC

Continuous Motor Current Max

(per motor) 14 A

Surge Current Max

(per motor) 32 A

Overcurrent Trigger

(combined) 50 A

Current Consumption Max

100 mA

Current Consumption Min

15 mA

USB Speed

Full Speed
Physical Properties

Recommended Wire Size

10 - 26 AWG

Operating Temperature Min

0 °C

Operating Temperature Max

70 °C
Software Objects
| Channel Name | API | Channel |
| --- | --- | --- |
| DC Motor Controller | DCMotor | 0 - 1 |
| DC Motor Current Sensor | CurrentInput | 0 - 1 |
API
Documents
Library & Driver Downloads
Code Samples
Language:
Projects
Product History
| Date | Board Revision | Device Version | Comment |
| --- | --- | --- | --- |
| October 2007 | 0 | 100 | Product Release |
| May 2009 | 0A | 101 | Improved PWM Opto-isolators |
| May 2009 | 0A | 102 | Fixed acceleration bug |
| July 2011 | 1 | 102 | Switch to Mini-USB connector |
Getting Started
Welcome to the 1064 user guide! In order to get started, make sure you have the following hardware on hand:

Next, you will need to connect the pieces: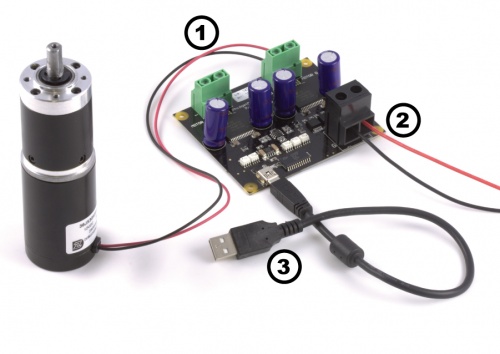 Connect the motor to one of the PhidgetMotorControl's outputs.
Connect the power supply to the terminal block on the board.
Connec the Phidget to your computer using the USB cable.

Now that you have everything together, let's start using the 1064!
Using the 1064
Phidget Control Panel
In order to demonstrate the functionality of the 1064, the Phidget Control Panel running on a Windows machine will be used.

The Phidget Control Panel is available for use on both macOS and Windows machines.
Windows
To open the Phidget Control Panel on Windows, find the

icon in the taskbar. If it is not there, open up the start menu and search for Phidget Control Panel

macOS
To open the Phidget Control Panel on macOS, open Finder and navigate to the Phidget Control Panel in the Applications list. Double click on the

icon to bring up the Phidget Control Panel.

For more information, take a look at the getting started guide for your operating system:

Linux users can follow the getting started with Linux guide and continue reading here for more information about the 1064.
First Look
After plugging the 1064 into your computer and opening the Phidget Control Panel, you will see something like this: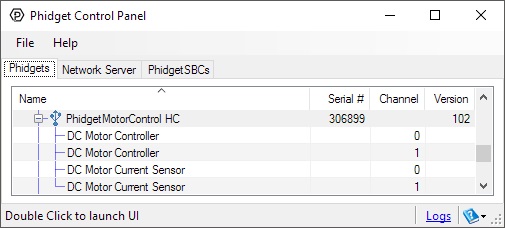 The Phidget Control Panel will list all connected Phidgets and associated objects, as well as the following information:
Serial number: allows you to differentiate between similar Phidgets.
Channel: allows you to differentiate between similar objects on a Phidget.
Version number: corresponds to the firmware version your Phidget is running. If your Phidget is listed in red, your firmware is out of date. Update the firmware by double-clicking the entry.

The Phidget Control Panel can also be used to test your device. Double-clicking on an object will open an example.
DC Motor
Double-click on the DC Motor object, labelled DC Motor Controller, in order to run the example: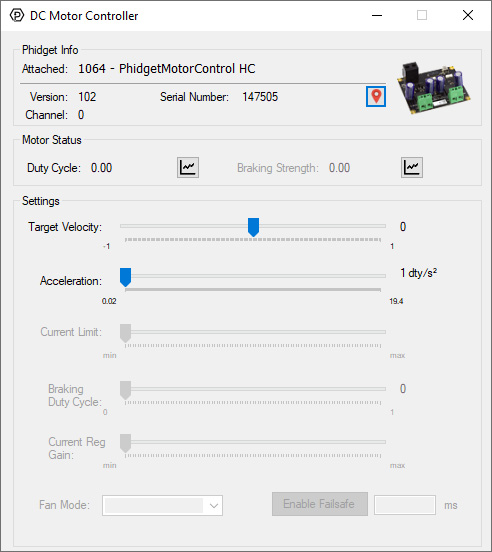 General information about the selected object will be displayed at the top of the window. You can also experiment with the following functionality:
Toggle the BackEMF Sensing checkbox to enable/disable back-EMF sensing on the 1064.
Drag the Target Velocity slider from -1 (full reverse) to 1 (full forward) to make the motor move.
Manipulate the Acceleration slider to increase/decrease the amount of time it takes the DC Motor to reach a target velocity.
Current Input
Double-click on the Current Input object , labelled DC Motor Current Sensor, in order to run the example:

General information about the selected object will be displayed at the top of the window. You can also experiment with the following functionality:
Modify the change trigger and/or data interval value by dragging the sliders. For more information on these settings, see the data interval/change trigger page.
Technical Details
For more information about DC motors and how to control them, check the DC Motor and Controller Primer.
What to do Next
Software Overview - Find your preferred programming language here to learn how to write your own code with Phidgets!
General Phidget Programming - Read this general guide to the various aspects of programming with Phidgets. Learn how to log data into a spreadsheet, use Phidgets over the network, and much more.
Phidget22 API - The API is a universal library of all functions and definitions for programming with Phidgets. Just select your language and device and it'll give you a complete list of all properties, methods, events, and enumerations that are at your disposal.
Enclosure
We do not carry enclosures for the 1064_1, because motor controllers are prone to overheating when kept in enclosed spaces for extended periods of time with no airflow.
DC Motors
We offer a wide variety of DC motors that can be used with this Phidget. Motors with higher gearbox ratios will have higher torque at the cost of lower speed. If you want a motor that has an encoder attached to it, skip ahead to the next table.
DC Motors with Encoders
These DC motors all have encoders attached to the rear shaft, allowing for closed-loop position control of your motor. In addition to the 1064 that drives the motor, you'll also need an encoder interface to read the encoder. If you're using an encoder, you may want to visit the "Other Controllers" tab and select a motor controller that has an encoder input built-in instead of the 1064.
DC Linear Actuators
Linear actuators are simply DC motors that are hooked up to a linear screw which causes the shaft to move laterally instead of rotating. Unlike a rotary DC motor, linear actuators have a minimum and maximum position at which the shaft cannot contract or extend any further. On its own, the motor would not be smart enough to stop before attempting to push beyond these limits, possibly damaging the motor. That's why each linear actuator also has a built-in feedback potentiometer so you can monitor the position of the shaft and prevent the actuator from stalling out at its limits. The potentiometer can be read by any Phidget with an analog input.
Power Supplies
This Phidget requires a power supply between 6 and 15V DC. We recommend that you use a 12V DC power supply for best results. The amount of current required depends on how much current you expect each servo to use. If you plan on running two motors at once, you should get a 5 amp supply. Select the power supply from the list below that matches your region's wall socket type.
USB Cables
Use a USB cable to connect this Phidget to your computer. We have a number of different lengths available, although the maximum length of a USB cable is 5 meters due to limitations in the timing protocol. For longer distances, we recommend that you use a Single Board Computer to control the Phidget remotely.
Have a look at our DC motor controllers:
Product
Controller Properties
Electrical Properties
Board Properties
Image
Part Number
Price
Number of Motor Ports

Velocity Resolution

Acceleration Resolution

Continuous Motor Current Max

Controlled By

1064_1B

$115.00

2

0.79 % Duty Cycle

1.9 % Duty Cycle/s

(per motor) 14 A

USB (Mini-USB)
1065_0B

$75.00

1

0.39 % Duty Cycle

24.5 % Duty Cycle/s

5 A

USB (Mini-USB)
DCC1000_0

$75.00

1

0.001 Duty Cycle

1 % Duty Cycle/s

25 A

VINT
DCC1001_0

$40.00

1

0.001 Duty Cycle

0.1 Duty Cycle/s

2 A

VINT