There are so many projects that require motor position control that Phidgets decided to make an inexpensive, reliable option. The ENC4109 is exactly that: an affordable optical quadrature encoder that is compatible with the mounting pattern of the majority of the DC and stepper motors sold here (the same mounting pattern as the higher precision 3531_0 Optical Rotary Encoder HKT22). See the Connection & Compatibility tab for a complete list of motors to choose from.
How to Install
See the User Guide tab for a step-by step installation guide for this encoder.
Connection
This encoder connects to a quadrature encoder interface. The encoder cable provided with this encoder is compatible with all Phidgets encoder interfaces. See the Connection & Compatibility tab for details.
Packaged With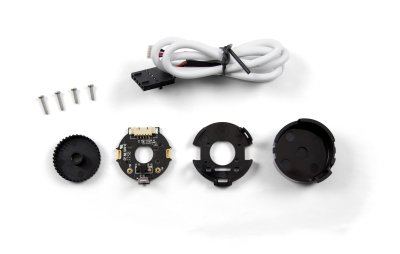 2x 8mm Mounting Screws
2x 6mm Mounting Screws
Encoder Wheel, PCB, Base and Cap
3035_0 - Encoder Cable
Encoder Interfaces
This quadrature encoder must be read by an encoder interface. These interfaces will interpret the two quadrature signals in order to determine the continuous position of the rotating part. The following interfaces are compatible with this encoder:
Product
Encoder Interface
Image
Part Number
Price
Number of Encoder Inputs

Count Rate Max

1047_1B

$75.00

4

1E+06 pulses/s

1057_2B

$50.00

1

2E+06 pulses/s

1065_1B

$75.00

1

500000 cycles/s

DCC1000_0

$75.00

1

400000 pulses/s

DCC1002_0

$40.00

1

400000 pulses/s

ENC1000_0

$15.00

1

400000 pulses/s
Motors
Here is a complete list of all motors sold at Phidgets that have mounting holes on the rear shaft that are compatible with this encoder:
Product
Motor Properties
Gearbox Properties
Image
Part Number
Price

Rated Torque

Motor Type

Gear Ratio

3268_1

$43.00

17.3 kg·cm

DC Motor
—
3269_3

$69.00

5.1 kg·cm

DC Motor
—
3270_2

$66.00

—
—
—
3272_2

$72.00

51 kg·cm

DC Motor
—
3273_2

$72.00

82.6 kg·cm

DC Motor
—
3274_2

$76.00

173 kg·cm

DC Motor
—
3320_0

$16.00

520 g·cm

Bipolar Stepper
—
3321_0

$36.00

14 kg·cm

Bipolar Stepper
26 103⁄121 : 1
3322_0

$38.00

32 kg·cm

Bipolar Stepper
99 1044⁄2057 : 1
3323_0

$16.00

1.2 kg·cm

Bipolar Stepper
—
3324_0

$16.00

3.3 kg·cm

Bipolar Stepper
—
3325_0

$40.00

18 kg·cm

Bipolar Stepper
5 2⁄11 : 1
3326_0

$42.00

30 kg·cm

Bipolar Stepper
13 212⁄289 : 1
3327_0

$44.00

30 kg·cm

Bipolar Stepper
26 103⁄121 : 1
3328_0

$46.00

48 kg·cm

Bipolar Stepper
50 4397⁄4913 : 1
3329_0

$48.00

48 kg·cm

Bipolar Stepper
99 1044⁄2057 : 1
3330_0

$28.00

11.2 kg·cm

Bipolar Stepper
—
3332_0

$70.00

46.6 kg·cm

Bipolar Stepper
4 1⁄4 : 1
3333_0

$72.00

150 kg·cm

Bipolar Stepper
15 3⁄10 : 1
3334_0

$74.00

240 kg·cm

Bipolar Stepper
76 49⁄64 : 1
3335_0

$60.00

30 kg·cm

Bipolar Stepper
—
DCM4000_0

$40.00

2.5 kg·cm

DC Motor
—
DCM4001_0

$80.00

10.6 kg·cm

DC Motor
—
DCM4002_0

$82.00

45 kg·cm

DC Motor
—
DCM4003_0

$84.00

162.5 kg·cm

DC Motor
—
DCM4004_0

$50.00

4.4 kg·cm

DC Motor
—
DCM4005_0

$60.00

6.1 kg·cm

DC Motor
—
Encoder Cables
If you need a replacement encoder cable, you can find one below:
Product
Physical Properties
Image
Part Number
Price
Cable Length
3035_0

$3.00

500 mm
Getting Started
Checking the Contents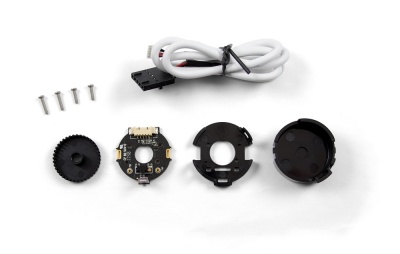 You should have received:

Plastic encoder cap and base
Plastic encoder disk
Encoder PCB
Two 8mm screws
Two 6mm screws
3035 - Encoder Cable

In order to test your new Phidget you will also need:

A motor with a rear shaft and compatible mounting holes
A motor controller Phidget
A Phidget with an encoder input
Connecting the Pieces
| | | |
| --- | --- | --- |
| Take the plastic base, the encoder PCB, and two screws. Use the longer 8mm screws if they fit your motor, or the 6mm screws if those are too long. Place the PCB inside the base in the orientation shown above so that it fits in. Place the combined base and PCB on the back of the motor such that the mounting holes line up with the holes in the base. There are two orientations possible- use whichever is more convenient for motor wiring. Place the screws in the two holes in the PCB and screw until the base and PCB are firmly attached, being careful not to over-tighten and damage the pieces. | | |
| Take the plastic encoder wheel and place it on the shaft with the comb-shaped edge facing the motor. Slowly slide the wheel onto the shaft until the combs are aligned with the bubble on the optical sensor (Outlined in red below). Be careful not to push so far that the wheel is contacting components on the PCB (outlined in green below). | | |
| | | |
| --- | --- | --- |
| Take the plastic cap and align the hole with the white connector. Press the cap on so that the tabs on either side click in. | | |
| Attach the cable to the white connector. You may need to push on either side with your fingernail or a screwdriver to ensure that it's fully inserted. | | |
| For further instructions, visit the user guide for the motor controller and encoder interface Phidget that you're using. | | |
Product Specifications
Encoder Properties

Controlled By

Encoder Interface

Output Circuit Type

Push-Pull

Encoder Speed Max

6000 RPM

Encoder Resolution

40 CPR

Electrical Properties

Supply Voltage Min

2.7 V DC

Supply Voltage Max

7 V DC

Output Frequency Max

12.5 kHz

Physical Properties

Operating Temperature Min

-40 °C

Operating Temperature Max

85 °C

IP Rating

IP65
Documents
Product History
| Date | Board Revision | Device Version | Comment |
| --- | --- | --- | --- |
| February 2018 | 0 | N/A | Product Release |
Have a look at our quadrature encoders:
Product
Encoder Properties
Image
Part Number
Price

Output Circuit Type

Encoder Resolution

Encoder Speed Max

3530_1

$50.00

Push-Pull (Single-Ended)

360 CPR

3000 RPM

3531_0

$25.00

Push-Pull (Single-Ended)

300 CPR

6000 RPM

3532_1

$50.00

Push-Pull (Single-Ended)

360 CPR

4500 RPM

ENC4109_0

$10.00

Push-Pull

40 CPR

6000 RPM