The REL2002 is a simple, easy to use, mechanical relay. This Phidget connects to your computer through a VINT Hub.
Features:
Rated for 210W of DC power or 1750 VA of AC power
DC applications - switch a circuit of up to 30V at 7A.
AC applications - switch up to 12A or 277V AC, as long as the total power doesn't exceed 1750 VA
Technical Details:
Isolation - A voltage spike on the load side of the relay will not damage the control side
VINT Hubs and InterfaceKits
This Phidget can be controlled by a VINT Hub or any other device with a digital output. You can use a Phidget Cable to simply and easily connect the two devices. Here's a list of all of the different VINT Hubs and Phidget InterfaceKits that can be used with this device:
Product
Board
Part Number
Price

Number of VINT Ports

Controlled By

$30.00

6
USB (Mini-USB)

$60.00

6
Local Network (Ethernet or Wi-Fi)

$120.00

6
—
Product
Voltage Inputs
Digital Outputs
Digital Inputs
Part Number
Price

Number of Voltage Inputs

Number of Digital Outputs
Number of Digital Inputs

PhidgetInterfaceKit 8/8/8 Mini-Format

$80.00

8
8
8

PhidgetInterfaceKit 2/2/2

$50.00

2
2
2

PhidgetInterfaceKit 8/8/8

$80.00

8
8
8

PhidgetInterfaceKit 8/8/8

$80.00

8
8
8

PhidgetInterfaceKit 8/8/8 w/6 Port Hub

$110.00

8
8
8

PhidgetTextLCD 20X2 : White : Integrated PhidgetInterfaceKit 8/8/8

$70.00

8
8
8
Phidget Cables
Use a Phidget cable to connect this device to the hub. You can solder multiple cables together in order to make even longer Phidget cables, but you should be aware of the effects of having long wires in your system.
Product
Physical Properties
Part Number
Price
Cable Length

$2.00

600 mm

$1.50

100 mm

$3.00

3.5 m

$2.25

1.2 m

$2.75

1.8 m

$1.75

300 mm

$2.00

900 mm

$2.50

1.5 m
Part 1: Setup
Part 2: Using Your Phidget
About
The REL2001 is a mechanical relay suitable for both AC and DC applications. You interact with the REL2001 through the Digital Output Channel Class to turn on and off power to your circuit or device.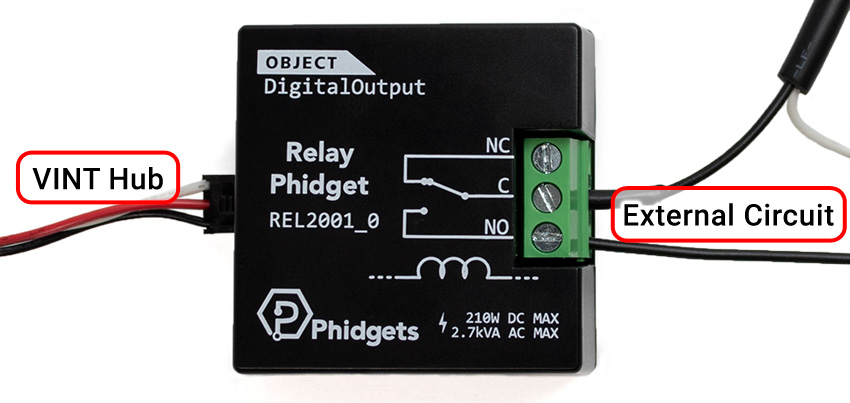 Explore your Phidget Channels Using the Control Panel
Double click on the Digital Output channel class under the port your REL2001 is connected to.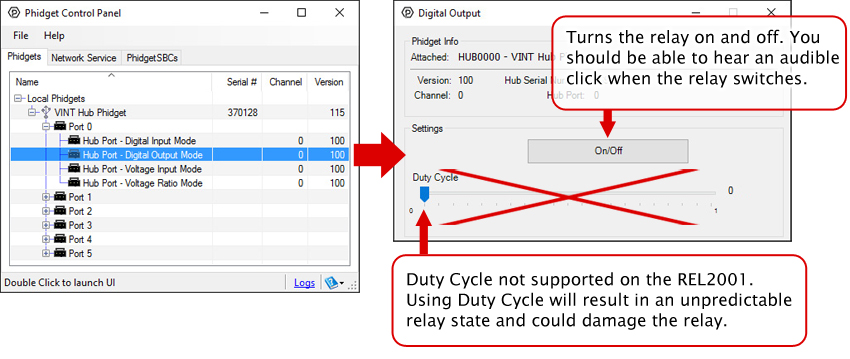 Part 3: Create your Program
1. Setting up your Programming Environment
Part 4: Advanced Topics and Troubleshooting
Expand All
Before you open a Phidget channel in your program, you can set these properties to specify which channel to open. You can find this information through the Control Panel.
1. Open the Control Panel and double-click on the red map pin icon:

2. The Addressing Information window will open. Here you will find all the information you need to address your Phidget in your program.


See the Phidget22 API for your language to determine exact syntax for each property.
This relay is an electrically-controlled switch. For more information about how mechanical relays work and how to use them, visit the Mechanical Relay Primer.
Product Specifications
Board Properties

Controlled By

Digital Output
Relay Properties

Switch Type

SPDT

Load Current Min

100 mA

Turn-off Time Max

5 ms

Turn-on Time Max

8 ms

Contact Resistance Max

50 mΩ

Dielectric Strength

1.5 kV AC

Electromagnet Coil Resistance

70 Ω

Electrical Properties

Load Voltage Max (DC)

* 30 V DC

Load Current Max (DC)

7 A

Load Voltage Max (AC)

277 V AC

Load Current Max (AC)

12 A

Switching Power Max (Real)

210 W

Switching Power Max (Apparent)

1.8 kVA

Current Consumption Min

0 A

Current Consumption Max

70 mA

Physical Properties

Recommended Wire Size

12 - 24 AWG

Operating Temperature Min

-40 °C

Operating Temperature Max

70 °C

Customs Information

Canadian HS Export Code

8536.41.00

American HTS Import Code

8536.41.00.50

Country of Origin

CN (China)
*Note: Switching this relay at voltages higher than 30V will result in a reduced product lifespan.
Please Note:
This relay cannot be switched at its maximum AC voltage and current at the same time. Ensure that total power of the load does not exceed the switching power for the relay. For example, you can switch this relay at 277V AC and 6.3A (1750VA), or at 145V AC and 12A (1750VA), but not at 277V and 12A (3324VA).
Estimated Relay Lifespan
The lifespan of the relays on this Phidget vary depending on how much current you're switching and whether it's AC or DC. The following graph illustrates the relationship between load current and relay lifespan: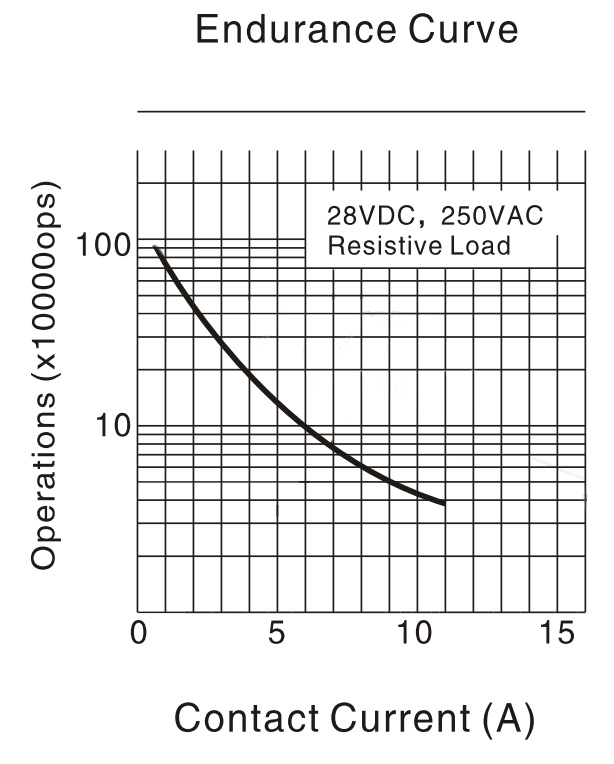 The vertical axis is the lifespan of the relay (number of actuations) and the horizontal axis is load current in amps. As you can see, increasing load current from 5A to 10A can reduce relay life by more than half.
Documents
Product History
| Date | Board Revision | Device Version | Comment |
| --- | --- | --- | --- |
| June 2017 | 0 | N/A | Product Release |
This device doesn't have an API of its own. It is controlled by opening a DigitalOutput channel on the Phidget that it's connected to. For a list of compatible Phidgets with Digital Outputs, see the Connection & Compatibility tab.
You can find details for the DigitalOutput API on the API tab for the Phidget that this sensor connects to.
Have a look at our relay boards:
Product
Electrical Properties
Part Number
Price

Load Current Max (AC)

Load Voltage Max (AC)

Load Current Max (DC)

Load Voltage Max (DC)

PhidgetInterfaceKit 0/16/16

$95.00

—
—
—
—

PhidgetInterfaceKit 0/0/4

$55.00

12 A

277 V AC

7 A

* 30 V DC

PhidgetInterfaceKit 0/0/4

$55.00

12 A

277 V AC

7 A

* 30 V DC

PhidgetInterfaceKit 0/0/8

$85.00

2 A

250 V AC

2 A

* 120 V DC

PhidgetInterfaceKit 0/0/8

$85.00

2 A

250 V AC

2 A

* 120 V DC

$17.00

12 A

277 V AC

7 A

* 30 V DC

$15.00

2.5 A

28 V AC

2.5 A

40 V DC

$30.00

(per channel) 9 A

28 V AC

(per channel) 9 A

40 V DC

$10.00

500 mA

28 V AC

500 mA

40 V DC

$15.00

15 A

125 V AC

—
—

$30.00

12 A

277 V AC

7 A

* 30 V DC

4x Isolated Solid State Relay Phidget

$25.00

—
—

8 A

30 V DC

16x Isolated Solid State Relay Phidget

$50.00

—
—

8 A

30 V DC

$10.00

12 A

277 V AC

7 A

* 30 V DC

$12.00

2 A

240 V AC

2 A

120 V DC

Solid State Relay Phidget

$15.00

10 A

30 V AC

* 10 A

30 V DC
Hockey Puck Relays
For applications with a higher switching power, Hockey Puck style relays are the more robust choice:
Product
Electrical Properties
Part Number
Price

Control Voltage Min

Control Voltage Max

Load Voltage Min (DC)

Load Voltage Max (DC)

Load Voltage Max (AC)

DC Solid State Relay - 30V 50A

$20.00

4 V DC

32 V DC

—

30 V DC

—

DC Solid State Relay - 50V 80A

$25.00

4 V DC

32 V DC

—

50 V DC

—

DC Solid State Relay - 30V 100A

$30.00

4 V DC

32 V DC

—

30 V DC

—

AC Solid State Relay - 280V 20A Zero-Cross Turn-on

$15.00

4 V DC

32 V DC

—
—

280 V AC

DC Solid State Relay - 120V 75A

$45.00

3 V DC

32 V DC

5 V DC

120 V DC

—

AC Solid State Relay - 280V 20A Random Turn-on

$15.00

4 V DC

32 V DC

—
—

280 V AC