Light up your world with this 32-output dimmable LED controller. Precise control of your LEDs has never been easier, and it only takes one VINT port on your hub. The LED1000 connects to a port on a VINT Hub. See the Comaptible Products tab for a list of hubs.
Individual LED Control
You can control the power supplied to your LEDs in three ways: First, choose a forward voltage for the entire controller to operate at. Of the four settings, choose the value closest to the rated forward voltage of your LEDs. Next, set a current limit to determine the maximum brightness of each channel. Lastly, you can set the duty cycle (brightness) of each channel from 0% (off) to 100% (maximum brightness) on the fly.
Externally Powered
This module requires an external power supply to power the LEDs. The VINT port is completely isolated from the power supply in order to increase system stability by eliminating ground loops.
Product Specifications
Board Properties

Controlled By

VINT
Number of LED Outputs
32
Electrical Properties

Current Consumption Min

5 mA

Supply Voltage Min

8 V DC

Supply Voltage Max

30 V DC

Current Consumption Max

2 A

LED Current Limit Max

(per channel) 40 mA

Forward Voltage Max

5.6 V DC

Forward Voltage Min

3.2 V DC

LED Driver Update Rate

90 Hz

Selectable Output Voltage Levels

3.2, 4.0, 4.8, 5.6 VDC
Physical Properties

Operating Temperature Min

-40 °C

Operating Temperature Max

85 °C

Power Jack

5.5x2.1mm, Center Positive
Software Objects
| Channel Name | API | Channel |
| --- | --- | --- |
| LED Driver | DigitalOutput | 0 - 31 |
API
Documents
Library & Driver Downloads
Code Samples
Projects
Product History
| Date | Board Revision | Device Version | Comment |
| --- | --- | --- | --- |
| June 2017 | 0 | 104 | Product Release |
Getting Started
Welcome to the LED1000 user guide! In order to get started, make sure you have the following hardware on hand:

Next, you will need to connect the pieces: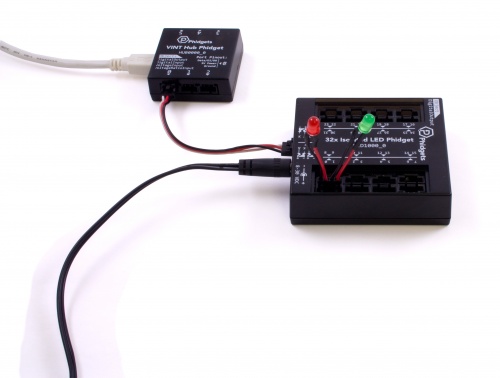 Connect the LED1000 to the VINT Hub using the Phidget cable.
Connect some LEDs to the LED Phidget's ports.
Connect the VINT Hub to your computer with a USB cable.

Now that you have everything together, let's start using the LED1000!
Using the LED1000
Phidget Control Panel
In order to demonstrate the functionality of the LED1000, the Phidget Control Panel running on a Windows machine will be used.

The Phidget Control Panel is available for use on both macOS and Windows machines. If you would like to follow along, first take a look at the getting started guide for your operating system:

Linux users can follow the getting started with Linux guide and continue reading here for more information about the LED1000.
First Look
After plugging the LED1000 into your computer and opening the Phidget Control Panel, you will see something like this: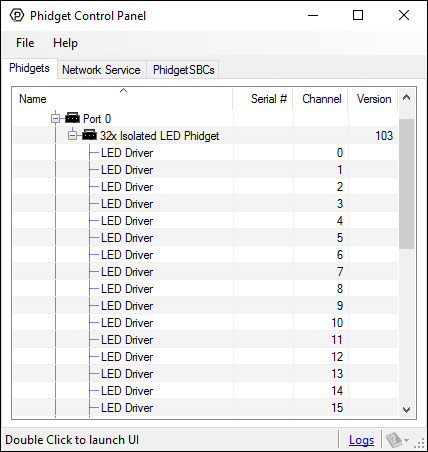 The Phidget Control Panel will list all connected Phidgets and associated objects, as well as the following information:
Serial number: allows you to differentiate between similar Phidgets.
Channel: allows you to differentiate between similar objects on a Phidget.
Version number: corresponds to the firmware version your Phidget is running. If your Phidget is listed in red, your firmware is out of date. Update the firmware by double-clicking the entry.

The Phidget Control Panel can also be used to test your device. Double-clicking on an object will open an example.
Digital Output (LED)
Double-click on a Digital Output object, labelled LED Driver, in order to run the example: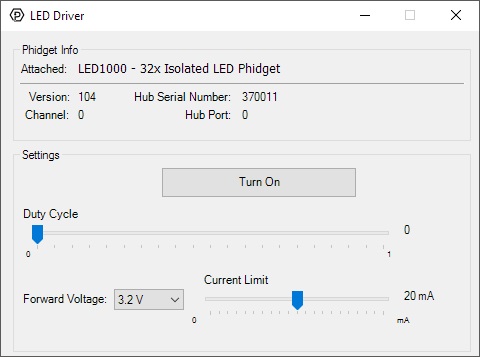 General information about the selected object will be displayed at the top of the window. You can also experiment with the following functionality:
From the Forward Voltage drop-down menu, select the appropriate voltage for your LED. It is recommended to set the forward voltage to the first setting above the maximum voltage specified by your LED's datasheet.
Use the Current Limit slider to set an appropriate limit for your LED. The current limit will be specified in your LED's datasheet.
Use the large button to toggle power to the LED.
Use the Duty Cycle slider to precisely control the amount of power supplied to the LED.
Technical Details
General
The LED1000 uses two controller chips that allow you to vary the current and voltage supplied to each channel. It uses pulse-width modulation to vary the brightness of each LED.
Multiple LEDs on a Single Channel
You can have multiple LEDs hooked up to a single channel on the LED1000, (for example, a short string of LEDs) to reduce the amount of wiring, although keep in mind that you won't be able to control the lights individually. When using multiple LEDs on a single channel, you may need to increase the voltage limit for that channel. If the LEDs are too dim at the maximum voltage, you should spread them out to other channels.
High-Current Considerations
If you're using high-current LEDs, you should spread your load evenly across the board to avoid having one of the controller chips overheat. There are two controller chips, each controlling the channels on one half of the board.
| | |
| --- | --- |
| Controller | Channels |
| 1 | 0, 1, 2, 3, 4, 5, 6, 7, 8, 9, 10, 11, 12, 13, 14, 15 |
| 2 | 16, 17, 18, 19, 20, 21, 22, 23, 24, 25, 26, 27, 28, 29, 30, 31 |
Board Connector Diagram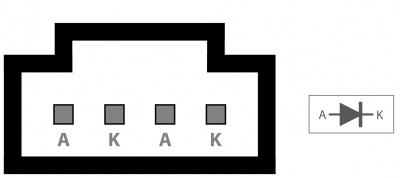 The connector used on the LED1000 is a Molex 70543-0003. The mating connector used on our LED cables is the Molex 50-57-9404.
Further Reading
For more information, take a look at the LED Primer.
What to do Next
Software Overview - Find your preferred programming language here to learn how to write your own code with Phidgets!
General Phidget Programming - Read this general guide to the various aspects of programming with Phidgets. Learn how to log data into a spreadsheet, use Phidgets over the network, and much more.
Phidget22 API - The API is a universal library of all functions and definitions for programming with Phidgets. Just select your language and device and it'll give you a complete list of all properties, methods, events, and enumerations that are at your disposal.
VINT Hubs
This Phidget is a smart device that must be controlled by a VINT Hub. For more information about VINT, have a look at the VINT Primer. You can use a Phidget Cable to simply and easily connect the two devices. Here's a list of all of the different VINT Hubs currently available:
Phidget Cables
Use a Phidget cable to connect this device to the hub. You can solder multiple cables together in order to make even longer Phidget cables, but you should be aware of the effects of having long wires in your system.
Power Supplies
This Phidget requires a power supply between 8 and 30V DC. We recommend that you use a 12V 2A DC power supply, as this should provide enough power for all 32 LEDs at the maximum current limit. Select the power supply from the list below that matches your region's wall socket type.
LEDs
The LED1000 can handle any LED with a forward voltage of 5.6V or less, and a forward current of 40mA or less. Here's a list of LEDs we have available:
LED Cables
For an easy way to connect LEDs to this Phidget, you can use these 4-pin LED cables. Just cut the cable in half and solder the LEDs to the loose ends. Solder the red wire to the positive end of the LED (usually the longer one) and the black wire to the negative end. Since you get two connectors per cable, you'll only need eight of these cables in order to connect all 32 LED outputs.
Here are all of our specialized LED boards:
Product
Board Properties
Electrical Properties
Image
Part Number
Price

Controlled By

Number of LED Outputs

LED Current Limit Max

Selectable Output Voltage Levels

1032_0B

$78.00

USB (Mini-USB)
64

80 mA

1.7, 2.75, 3.9, 5.0 VDC
LED1000_0

$50.00

VINT
32

(per channel) 40 mA

3.2, 4.0, 4.8, 5.6 VDC
The following Phidgets all have digital outputs, which can be used to control LEDs, but lack some of the extra features of our LED interfaces.
Product
Digital Outputs
Image
Part Number
Price
Number of Digital Outputs

Digital Output Current Max

Digital Output Voltage Max

1010_0

$80.00

8

16 mA

5 V DC

1011_0

$50.00

2

16 mA

5 V DC

1018_2B

$80.00

8

16 mA

5 V DC

1019_1B

$110.00

8

16 mA

5 V DC

1073_0

$140.00

8

16 mA

5 V DC

1203_2B

$95.00

8

16 mA

5 V DC

HUB0000_0

$30.00

6 (Shared)
—

3.3 V DC

OUT1100_0

$15.00

4

16 mA

5 V DC