The WDA rotary potentiometer allows positional feedback for a rotating part in your application. It can also be used as a dial to control variables such as volume, brightness, or sensitivity.
It has 360° of mechanical travel and 345° of electrical travel, meaning that it can be used for measuring continuous rotation with a small blind spot between each rotation.
Connection
This sensor can be used with any device with an analog input. Simply cut and connect a 3-wire Phidget cable as described in the Phidget Cable section on the Connection & Compatibility tab.
Phidget Cables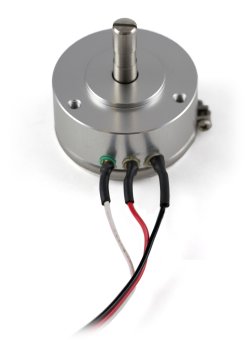 To easily connect this potentiometer to a Phidget we recommend you use a Phidget cable. Just snip off the connector from one end of the Phidget cable, strip the ends of the wires and solder them to the pins on the potentiometer. The green terminal on the potentiometer is the wiper, and should be soldered to the data line. The other two terminals should be soldered to power and ground. Soldering ground to the middle terminal will result in increasing voltage ratio with clockwise rotation, while soldering power to the middle terminal will result in decreasing voltage ratio with clockwise rotation. You can solder multiple cables together in order to make even longer Phidget cables, but you should be aware of the effects of having long wires in your system.
Shaft Couplers
If you need to connect the shaft of this potentiometer to the shaft of another device, you can use a shaft coupler:
Product
Physical Properties
Image
Part Number
Price
Inner Diameter

Material

Coupling Rated Torque

Coupling Rated Speed

Torsional Stiffness

TRM4310_0

$2.25

4 mm

Aluminum

35.7 kg·cm

12000 RPM

—
TRM4332_0

$3.00

4 mm

Aluminium

10 kg·cm

8000 RPM

110 N·m/rad
Interface Boards and Hubs
This potentiometer can be read by any Phidget with an Analog Input or VINT Hub port. It will connect to either one using a Phidget cable; see the diagram in the Phidget Cables section below for wiring instructions. VINT Hub ports can behave just like Analog Inputs, but have the added flexibility of being able to be used as digital inputs, digital outputs, or ports to communicate with VINT devices. For more information about VINT, see the VINT Primer.
Product
Voltage Inputs
Image
Part Number
Price

Number of Voltage Inputs

Voltage Input Resolution

1010_0

$80.00

8

10 bit

1011_0

$50.00

2

10 bit

1018_2B

$80.00

8

10 bit

1019_1B

$110.00

8

10 bit

1203_2B

$70.00

8

10 bit

DAQ1000_0

$20.00

8

12 bit

HUB0000_0

$30.00

6 (Shared)

* 16 bit

SBC3003_0

$120.00

6 (Shared)

* 16 bit
Product Specifications
Sensor Properties
Sensor Type
Input (Rotary)

Controlled By

VoltageRatio Input
Potentiometer Impedance

5 kΩ

Range of Rotation

(continuous) 360°

Effective Electrical Travel

345°

Physical Properties

Shaft Diameter

6 mm

Lifespan

50 million actuations

Weight

50 g
Documents
Here are all form factors and sizes for rotary potentiometers that we have available.
Product
Sensor Properties
Image
Part Number
Price
Sensor Type

Controlled By

Range of Rotation

1109_0

$7.00

Rotation
VoltageRatio Input

300°

1116_0

$11.00

Input (Rotation)
VoltageRatio Input

3600°

3583_0

$35.00

Input (Rotary)
VoltageRatio Input

(continuous) 360°
You may also be interested in this encoder-based dial:
Product
Board
Encoder Properties
Image
Part Number
Price

Controlled By

Encoder Resolution

HIN1101_0

$15.00

VINT

96 PPR