Replaced by the 3530_1 - Optical Rotary Encoder ISC3004, the same encoder but with a Phidget encoder cable connector.
This is a small ball bearing construction, rotary encoder without index that goes up to 3000 rpm.
The encoder comes with a 1 meter cable and 2 mounting screws.
Connection
This quadrature encoder can be read by an encoder interface. To attach the shaft of this encoder to a motor or some other device, you can use a shaft coupler. See the Connection & Compatibility tab for details.
Product Specifications
Encoder Properties

Output Circuit Type

Push-Pull (Single-Ended)

Controlled By

Encoder Interface

Encoder Resolution

360 CPR

Encoder Speed Max

3000 RPM

Electrical Properties

Supply Voltage Min

5 V DC

Supply Voltage Max

5 V DC

Output Frequency Max

80 kHz

Physical Properties

Shaft Diameter

4 mm

Shaft Maximum Axial Load

10 N

Shaft Maximum Radial Load

20 N

Operating Humidity Min

30 %RH

Operating Humidity Max

(Non-condensing) 85 %RH

Operating Temperature Min

-25 °C

Operating Temperature Max

85 °C

IP Rating

IP54

Weight

83 g

Customs Information

Canadian HS Export Code

9029.10.00

American HTS Import Code

9029.10.80.00

Country of Origin

CN (China)
Encoder Interfaces
This quadrature encoder must be read by an encoder interface. These interfaces will interpret the two quadrature signals in order to determine the continuous position of the rotating part. The following interfaces are compatible with this encoder:
Product
Encoder Interface
Image
Part Number
Price
Number of Encoder Inputs

Count Rate Max

1047_2B

$75.00

4

1E+06 pulses/s

1057_3B

$50.00

1

1E+06 pulses/s

1065_1B

$75.00

1

500000 cycles/s

DCC1000_0

$75.00

1

400000 pulses/s

DCC1002_0

$40.00

1

400000 pulses/s

ENC1000_0

$15.00

1

400000 pulses/s
Shaft Couplers
If you need to connect the main shaft of this motor to the shaft of another device, you can use a shaft coupler:
Product
Physical Properties
Image
Part Number
Price
Inner Diameter

Material

Coupling Rated Torque

Coupling Rated Speed

Torsional Stiffness

TRM4310_0

$2.25

4 mm

Aluminum

35.7 kg·cm

12000 RPM

—
TRM4332_0

$3.00

4 mm

Aluminium

10 kg·cm

8000 RPM

110 N·m/rad
Encoder Cables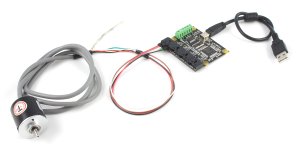 The easiest way to connect your encoder to a Phidgets encoder interface is to use a Phidgets encoder cable, cut it to the desired length and solder the encoder wires to the encoder cable as follows:
| 3530 - Encoder | 3019 - Phidget encoder cable |
| --- | --- |
| Red | Red |
| Black | Black |
| White | White |
| Green | Brown |
Alternatively, you could buy the male connector (Molex part 50-57-9405), and crimp it onto the end of the cable, if you have the appropriate tools.
Product
Physical Properties
Image
Part Number
Price
Cable Length

Cable Gauge

3019_0

$5.00

500 mm

26 AWG
Have a look at our quadrature encoders:
Product
Encoder Properties
Image
Part Number
Price

Output Circuit Type

Encoder Resolution

Encoder Speed Max

3530_1

$50.00

Push-Pull (Single-Ended)

360 CPR

3000 RPM

3531_0

$25.00

Push-Pull (Single-Ended)

300 CPR

6000 RPM

3532_1

$50.00

Push-Pull (Single-Ended)

500 CPR

4500 RPM

ENC4109_0

$10.00

Push-Pull

40 CPR

6000 RPM