This LED flood light gives off 1000 lumens of cool white light, making it ideal for outdoor lighting solutions.
A 12V DC power supply is required to use this light. To see our available power supplies, see the Connection & Compatibility tab.
Relay Boards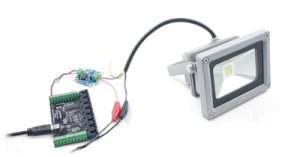 In order to turn this LED light on and off, you can use a relay board. The brown wire is connected to power, and the blue wire to ground. The yellow/green wire is not internally connected and can be ignored. Put a relay board in series with the flood light in order to control it.
Open-Collector Relay Boards
You could also use an open-collector relay board, which is just a solid state relay that switches to ground instead of closing a circuit. Connect the ground of the power supply to the ground on the board, connect the positive end of the power supply to the brown wire on the light, and connect the blue wire of the light to one of the outputs on the board.
Product
Relay Properties
Electrical Properties
Image
Part Number
Price
Number of Relays

Load Current Max (DC)

Load Voltage Max (DC)

1012_3

$95.00

16
—
—
REL1100_0

$25.00

4

8 A

30 V DC

REL1101_0

$50.00

16

8 A

30 V DC

REL1101_1

$50.00

16

8 A

30 V DC
12V Power Supplies
This light requires a 12V power supply. We recommend a 2A power supply to ensure that the LEDs have enough power. Select the power supply from the list below that matches your region's wall socket type.
Product Specifications
LED Properties

Controlled By

Relay

Flood Light Brightness

1 klm

Beam Angle

120°

Color Temperature

6250 K

Flood Light Lifespan

50000 h

Supply Voltage Min

12 V DC

Supply Voltage Max

12 V DC

Current Consumption

830 mA

Physical Properties

Material

Aluminium Case, Glass Face

IP Rating

IP65

Weight

500 g

Operating Temperature Min

-60 °C

Operating Temperature Max

80 °C

Customs Information

Canadian HS Export Code

8541.41.00

American HTS Import Code

8541.41.00.00

Country of Origin

CN (China)
Documents