The REL2103 is a simple, easy to use, solid-state relay. This Phidget connects to your computer through a VINT Hub.
Features:
Capable of switching up to 10 amps of current in either AC or DC
Control power for a circuit or device up to a maximum of 30V
Technical Details:
Quiet, quick and Long-lasting - Solid-state relays switch silently and quickly, and last much longer than mechanical relays.
Isolation - A Power surge on the load side of the relay will not damage the VINT Hub or computer
VINT Hubs
This Phidget can be controlled by a VINT Hub using a port in digital output mode. You can use a Phidget Cable to simply and easily connect the two devices. Here's a list of all of the different VINT Hubs and Phidget InterfaceKits that can be used with this device:
Product
Board
Part Number
Price

Number of VINT Ports

Controlled By

$30.00

6
USB (Mini-USB)

$60.00

6
Local Network (Ethernet or Wi-Fi)

$120.00

6
—
Phidget Cables
Use a Phidget cable to connect this device to the hub. You can solder multiple cables together in order to make even longer Phidget cables, but you should be aware of the effects of having long wires in your system.
Product
Physical Properties
Part Number
Price
Cable Length

$2.00

600 mm

$1.50

100 mm

$3.00

3.5 m

$2.25

1.2 m

$2.75

1.8 m

$1.75

300 mm

$2.00

900 mm

$2.50

1.5 m
Part 1: Setup
Part 2: Using Your Phidget
About
The REL2103 is a solid-state relay capable of switching up to 10 amps or controlling power up to 30V. You interact with the REL2103 through the Digital Output Channel Class to turn on or off the power to a circuit.

Explore your Phidget Channels Using the Control Panel
Double click on the Digital Output channel class under the port your REL2103 is connected to.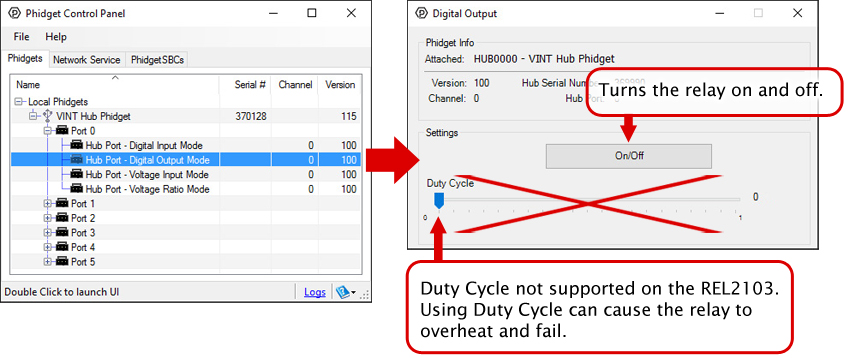 Part 3: Create your Program
1. Setting up your Programming Environment
Part 4: Advanced Topics and Troubleshooting
Expand All
Before you open a Phidget channel in your program, you can set these properties to specify which channel to open. You can find this information through the Control Panel.
1. Open the Control Panel and double-click on the red map pin icon:

2. The Addressing Information window will open. Here you will find all the information you need to address your Phidget in your program.


See the Phidget22 API for your language to determine exact syntax for each property.
A solid-state relay is an electrically-controlled switch. For more information about how SSRs work and how to use them, visit the Solid State Relay Primer.
The two middle pins on the REL2103, labeled "SRC" give you access to the source of the MOSFETs used to switch your circuit. If you are switching a DC load, the setup will be advantageous as you can double the maximum current handled by this Phidget (10A to 20A).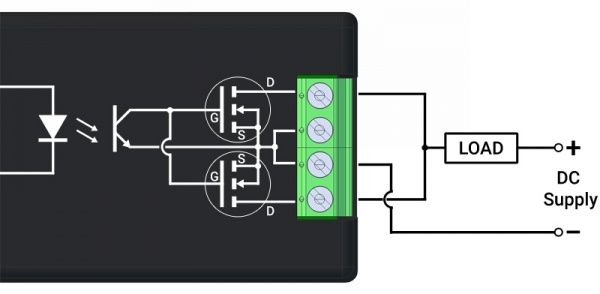 The white schematic on the left shows a simplified version of the REL2103's circuitry: An optocoupler that activates two MOSFETs. The black schematic on the right shows how you would hook up a DC circuit to take advantage of the increased maximum current.
Product Specifications
Board Properties

Controlled By

Digital Output
Relay Properties

Turn-off Time Max

50 ns

Turn-on Time Max

50 ns

Electrical Properties

Current Consumption Max

20 mA

Isolation Voltage (AC)

3.8 kV AC

Load Voltage Max (AC)

30 V AC

Load Voltage Max (DC)

30 V DC

Load Current Max (AC)

10 A

Load Current Max (DC)

* 10 A

Customs Information

Canadian HS Export Code

8536.41.00

American HTS Import Code

8536.41.00.50

Country of Origin

CN (China)
* - If you need to switch a DC circuit at over 10A, take a look at the technical section of the user guide for wiring that will permit up to 20A.
Documents
Product History
| Date | Board Revision | Device Version | Comment |
| --- | --- | --- | --- |
| May 2019 | 0 | N/A | Product Release |
This device doesn't have an API of its own. It is controlled by opening a DigitalOutput channel on the Phidget that it's connected to. For a list of compatible Phidgets with Digital Output, see the Connection & Compatibility tab.
You can find details for the DigitalOutput API on the API tab for the Phidget that this sensor connects to.
Have a look at our relay boards:
Product
Electrical Properties
Part Number
Price

Load Current Max (AC)

Load Voltage Max (AC)

Load Current Max (DC)

Load Voltage Max (DC)

PhidgetInterfaceKit 0/16/16

$95.00

—
—
—
—

PhidgetInterfaceKit 0/0/4

$55.00

12 A

277 V AC

7 A

* 30 V DC

PhidgetInterfaceKit 0/0/4

$55.00

12 A

277 V AC

7 A

* 30 V DC

PhidgetInterfaceKit 0/0/8

$85.00

2 A

250 V AC

2 A

* 120 V DC

PhidgetInterfaceKit 0/0/8

$85.00

2 A

250 V AC

2 A

* 120 V DC

$17.00

12 A

277 V AC

7 A

* 30 V DC

$15.00

2.5 A

28 V AC

2.5 A

40 V DC

$30.00

(per channel) 9 A

28 V AC

(per channel) 9 A

40 V DC

$10.00

500 mA

28 V AC

500 mA

40 V DC

$15.00

15 A

125 V AC

—
—

$30.00

12 A

277 V AC

7 A

* 30 V DC

4x Isolated Solid State Relay Phidget

$25.00

—
—

8 A

30 V DC

16x Isolated Solid State Relay Phidget

$50.00

—
—

8 A

30 V DC

$10.00

12 A

277 V AC

7 A

* 30 V DC

$12.00

2 A

240 V AC

2 A

120 V DC

Solid State Relay Phidget

$15.00

10 A

30 V AC

* 10 A

30 V DC
Hockey Puck Relays
For applications with a higher switching power, Hockey Puck style relays are the more robust choice:
Product
Electrical Properties
Part Number
Price

Control Voltage Min

Control Voltage Max

Load Voltage Min (DC)

Load Voltage Max (DC)

Load Voltage Max (AC)

DC Solid State Relay - 30V 50A

$20.00

4 V DC

32 V DC

—

30 V DC

—

DC Solid State Relay - 50V 80A

$25.00

4 V DC

32 V DC

—

50 V DC

—

DC Solid State Relay - 30V 100A

$30.00

4 V DC

32 V DC

—

30 V DC

—

AC Solid State Relay - 280V 20A Zero-Cross Turn-on

$15.00

4 V DC

32 V DC

—
—

280 V AC

DC Solid State Relay - 120V 75A

$45.00

3 V DC

32 V DC

5 V DC

120 V DC

—

AC Solid State Relay - 280V 20A Random Turn-on

$15.00

4 V DC

32 V DC

—
—

280 V AC