Note: The STC1001 has been replaced by the STC1003, which has the same function and form factor, but will has a maximum motor current of 4 amps.
If you're looking for a compact solution for controlling a medium-sized stepper motor, the STC1001 is an affordable and convenient option. You can control the position, velocity, and acceleration of the motor by sending commands from your program. This Phidget connects to a VINT Hub; for a list of options see the Connection & Compatibility tab.
Safety Features
The STC1001 comes equipped with a heatsink to prevent the board from overheating during use. The power terminals on this device are polarity protected: if you happen to hook up the power supply backwards, the device simply won't power up and won't be damaged. A 5-amp automotive-style fuse is also included to protect the board from current spikes from the motor's back-EMF. This Phidget is isolated from input to output, so your VINT hub and computer will be protected if anything goes wrong.
Power Saving Options
For power-conscious users, we also allow for separate control over the current limit and the holding current limit. If you know your motor will be stationary for long periods of time, but still needs a small amount of holding torque to maintain its position, you can set the holding current appropriately without interfering with the running current limit.
Power Guards
Using motor controllers with large motors can pose a risk for your power supply. If your supply does not have protective features built-in, you can use a Power Guard Phidget to prevent damage from power spikes from back EMF that is generated when motors brake or change direction. We recommend that you use the SAF2000 for any motor with a coil current between 1.5 and 5 amperes, and the SAF1000 for motors above 5A.
Bipolar Stepper Motors
The STC1001 can control both unipolar and bipolar motors, but in almost all cases you're better off with a bipolar motor due to their increased power and more precise step angles. If you care about torque, large motors with high gear ratios are your best bet. If you car about speed, motors with no gearbox and high step angles are better. If you want precision, steppers without gearboxes and low step angles are best because while gearboxes do result in smaller steps, they also introduce a flat 1-3 degrees of positional error due to backlash in the gears.
VINT Hubs
This Phidget is a smart device that must be controlled by a VINT Hub. For more information about VINT, have a look at the VINT Primer. You can use a Phidget Cable to simply and easily connect the two devices. Here's a list of all of the different VINT Hubs currently available:
Phidget Cables
Use a Phidget cable to connect this device to the hub. You can solder multiple cables together in order to make even longer Phidget cables, but you should be aware of the effects of having long wires in your system.
Power Supplies
This Phidget requires a power supply between 8 and 30V DC. We recommend that you use a 12V DC power supply for small steppers and a 24V DC supply for larger ones. If you're not sure, check the data sheet for your motor for the recommended power supply voltage (not to be confused with the coil voltage, which is usually much lower). For best results, we recommend getting a 5 amp supply. Select the power supply from the list below that matches your region's wall socket type.
Power Supply Pigtail
You can use a pigtail wire if you want to avoid removing the barrel jack connector from your supply's cord:
Part 1: Setup
Part 2: Using Your Phidget
About
Control a small (2.5AA) stepper motor with the STC1001. With this Phidget, you can set your motor's position, velocity, and acceleration.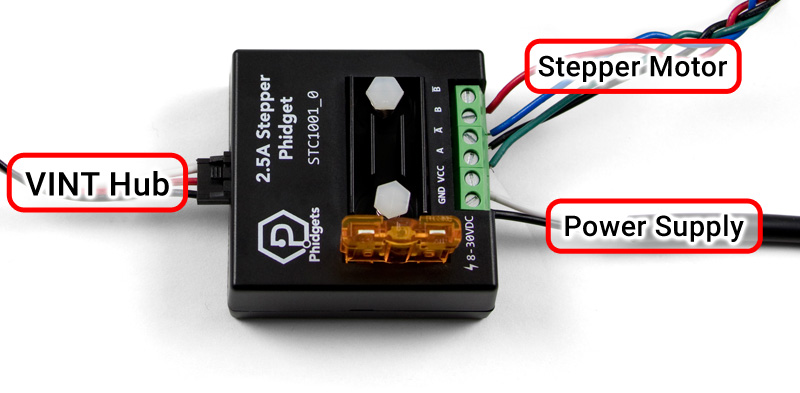 Explore Your Phidget Channels Using The Control Panel
You can use your Control Panel to explore your Phidget's channels.
1. Open your Control Panel, and you will find the Stepper Phidget channel: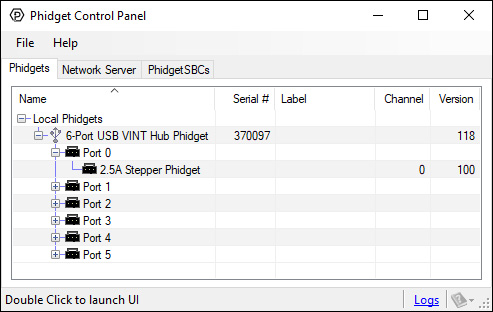 2. Double click on the channel to open an example program. This channel belongs to the Stepper channel class:
Expand All
In your Control Panel, double click on "2.5A Stepper Phidget":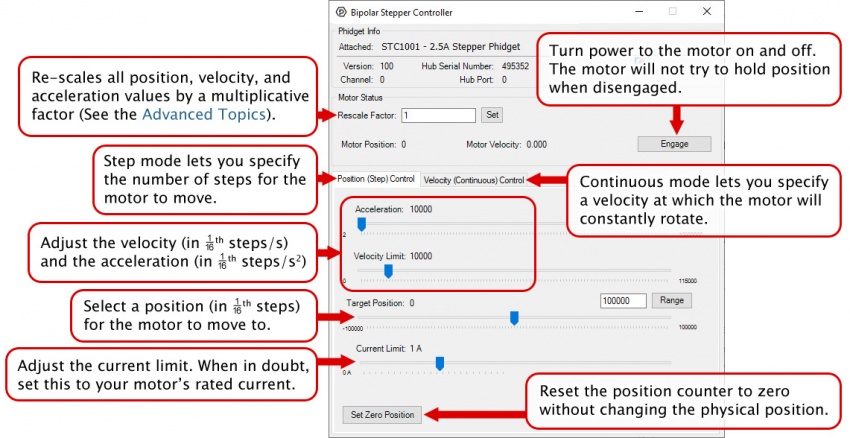 Part 3: Create your Program
1. Setting up your Programming Environment
Part 4: Advanced Topics and Troubleshooting
Expand All
Before you open a Phidget channel in your program, you can set these properties to specify which channel to open. You can find this information through the Control Panel.
1. Open the Control Panel and double-click on the red map pin icon:

2. The Addressing Information window will open. Here you will find all the information you need to address your Phidget in your program.


See the Phidget22 API for your language to determine exact syntax for each property.
For more information, have a look at the Stepper Motor and Controller Primer.
Product Specifications
Board Properties

Controlled By

VINT
Controller Properties

Motor Type

Bipolar Stepper
Number of Motor Ports
1

Motor Position Resolution

1/16 Step (40-Bit Signed)

Position Max

± 1E+15 1/16 steps

Stepper Velocity Resolution

1 1/16 steps/sec

Stepper Velocity Max

115000 1/16 steps/sec

Stepper Acceleration Resolution

1 1/16 steps/sec²

Stepper Acceleration Min

2 1/16 steps/sec²

Stepper Acceleration Max

1E+07 1/16 steps/sec²

Sampling Interval Min

100 ms/sample

Sampling Interval Max

60 s/sample

Electrical Properties

Available Current per Coil Max

2.5 A

Supply Voltage Min

8 V DC

Supply Voltage Max

30 V DC

Current Consumption Min (VINT Port)

500 μA

Current Consumption Max (VINT Port)

1 mA

Quiescent Power Consumption Max

* 200 mW

Physical Properties

Recommended Wire Size

16 - 26 AWG

Operating Temperature Min

-20 °C

Operating Temperature Max

85 °C

Customs Information

Canadian HS Export Code

8471.80.00

American HTS Import Code

8471.80.40.00

Country of Origin

CN (China)
* This is the power consumption for the board only. Add the motor's rated power consumption for total maximum power consumption.
Software Objects
| Channel Name | API | Channel |
| --- | --- | --- |
| Bipolar Stepper Controller | Stepper | 0 |
API
Documents
Code Samples
Language:
Product History
Date
Board Revision
Device Version
Comment
February 2018
0
100
Product Release
April 2019
0
101
Fixed bug that caused STC1001 to become unresponsive
May 2019
0
110
Added failsafe timer functionality
Sept 2019
0
111

Fixed issue where stepper could stop functioning while still attached
Velocity changes that cause the motor to stop now cause deceleration instead of abrupt stop
Changing acceleration while the motor is moving now works properly as long as velocity is between -1000 and +1000 steps/sec. Changing acceleration outside of this velocity range can cause unpredictable acceleration behaviour because the device cannot recalculate the accerlation curve fast enough
Fixed issues that occured when switching between Run mode and Step mode and vice-versa while the motor is running

October 2019
0
112
Fixed msfollower bug
August 2020
0
113
Fixed crash that made STC1001 unresponsive until power cycle
September 2020
0
114
Fixed bug that prevented motor from moving
November 2020
0
115
Fixed crash that could occur at low acceleration
Have a look at our stepper controllers: