Part 1: Setup
Part 2: Using Your Phidget
About
The DST1002 uses reflected infrared light to measure distance. Use this Phidget when measuring short distances or for detecting objects passing in front of the sensor. The sensor will measure distances from 20mm to 1300mm in optimal conditions with an accuracy of about 10mm.

Explore Your Phidget Channels Using the Control Panel
You can use your Control Panel to explore your Phidget's channels.
1. Open your Control Panel, and you will find the Distance Phidget 1300mm channel: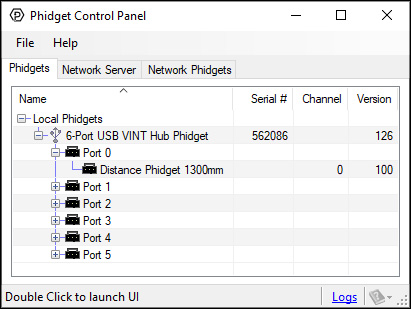 2. Double click on the channel to open an example program. This channel belongs to the Distance Sensor channel class:
In your Control Panel, double click on "Distance Phidget 1300mm":

Part 3: Create your Program
1. Setting up your Programming Environment
Part 4: Advanced Topics and Troubleshooting
Before you open a Phidget channel in your program, you can set these properties to specify which channel to open. You can find this information through the Control Panel.
1. Open the Control Panel and double-click on the red map pin icon:

2. The Addressing Information window will open. Here you will find all the information you need to address your Phidget in your program.


See the Phidget22 API for your language to determine exact syntax for each property.
The Change Trigger is the minimum change in the sensor data needed to trigger a new data event. The Data Interval is the time (in ms) between data events sent out from your Phidget. You can modify one or both of these values to achieve different data outputs. You can learn more about these two properties here.
The DST1002 will fire out-of-range error events when the reflected IR light does not reach the sensor, meaning the object is out of range. Objects that do not reflect light well might be harder to detect at greater distances.