In complex mechanical systems, it is often very difficult to accurately measure the movement of a single part, particularly if it has several degrees of freedom. The draw wire encoder is a versatile solution to this very problem; it can be attached to a part using an M5 screw or fastened to the end with a zip tie, and the encoder itself has a pair of M4 screw threads on the back for easy installation.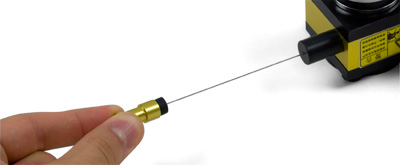 When the wire is pulled out, the sensor produces a quadrature signal to describe the length of wire exposed. The reel is spring loaded, so it will retract when there is no tension in the wire. Multiple draw wire sensors could be used to track the position in more than one dimension.
Connection
This quadrature encoder can be read by an encoder interface by fitting the end of the cable with the appropriate connector. See the Connection & Compatibility tab for details.
Encoder Interfaces
This draw-wire encoder must be read by an encoder interface. These interfaces will interpret the two quadrature signals in order to determine the continuous position of the draw wire. The following interfaces are compatible with this encoder:
Product
Encoder Interface
Image
Part Number
Price
Number of Encoder Inputs

Count Rate Max

1047_1B

$75.00

4

1E+06 pulses/s

1047_2B

$75.00

4

1E+06 pulses/s

1057_3B

$50.00

1

1E+06 pulses/s

1065_1B

$75.00

1

500000 cycles/s

DCC1000_0

$75.00

1

400000 pulses/s

DCC1002_0

$40.00

1

400000 pulses/s

ENC1000_0

$15.00

1

400000 pulses/s
Encoder Cables
You can easily connect this draw-wire encoder to a Phidgets encoder interface by cutting the end off of a Phidget encoder cable and soldering the wires to the encoder as described in this table. Below you'll find a list of available encoder cables:
| Function | ENC4106 - Encoder | 3019 - Phidget cable |
| --- | --- | --- |
| +5V | Red | Red |
| Ground | Black | Black |
| Data (A) | White | White |
| Data (B) | Green | Brown |
| Index (Z) | Yellow | Green |
Alternatively, you could buy the male connector (Molex part 50-57-9405), and crimp it onto the end of the cable, if you have the appropriate tools.
Product
Physical Properties
Image
Part Number
Price
Cable Length

Cable Gauge

3019_0

$5.00

500 mm

26 AWG
Product Specifications
Encoder Properties

Manufacturer Part Number

RLC40D-600-D1F-1M

Output Circuit Type

Push-Pull

Length Resolution

40 μm/cyc

Wire Pull Length

600 mm

Electrical Properties

Supply Voltage Max

5 V DC

Current Consumption Max

60 mA

Physical Properties

Wire Load Maximum

255 g

Wire Pull Speed Max

1 m/s

Weight

255 g

Operating Temperature Min

-30 °C

Operating Temperature Max

90 °C

Screw Thread Size

M4

IP Rating

IP54
Customs Information

Canadian HS Export Code

9029.10.00

American HTS Import Code

9029.10.80.00

Country of Origin

CN (China)
Documents
Here are our draw wire encoders:
Product
Encoder Properties
Physical Properties
Image
Part Number
Price

Output Circuit Type

Length Resolution

Wire Pull Length

Weight

ENC4104_0

$145.00

Push-Pull

80 μm/cyc

1 m

305 g

ENC4106_0

$135.00

Push-Pull

40 μm/cyc

600 mm

255 g

ENC4107_0

$150.00

Push-Pull

50 μm/cyc

1.5 m

485 g

ENC4108_0

$165.00

Push-Pull

75 μm/cyc

2.5 m

580 g