Measure sound pressure level of a room or an environment with this neat little Phidget that plugs into a VINT port (See the Comaptible Products tab for a list of VINT Hubs). You could also use it to detect the occurance of sudden noises. The sensor returns data in dB (SPL), which is decibels relative to the quietest noise a human can hear.
Pre-weighted Data
The Sound Phidget also reports data in dBA (SPL) and dBC (SPL). These are special standardized weightings of the frequency range created for specific purposes. For example, dBA puts less emphasis on lower frequencies that the human ear doesn't pick up, making it ideal for measuring loudness as heard by your ear.
Frequency Analysis
This Phidget is also capable of analyzing specific frequency bands of sound. Every time data is sent to your program, an array of 10 values will be sent, each one corresponding to a different frequency band ranging from 31.5 Hz to 16kHz centered.
VINT Hubs
This Phidget is a smart device that must be controlled by a VINT Hub. For more information about VINT, have a look at the VINT Primer. You can use a Phidget Cable to simply and easily connect the two devices. Here's a list of all of the different VINT Hubs currently available:
Phidget Cables
Use a Phidget cable to connect this device to the hub. You can solder multiple cables together in order to make even longer Phidget cables, but you should be aware of the effects of having long wires in your system.
Getting Started
Welcome to the SND1000 user guide! In order to get started, make sure you have the following hardware on hand:

Next, you will need to connect the pieces: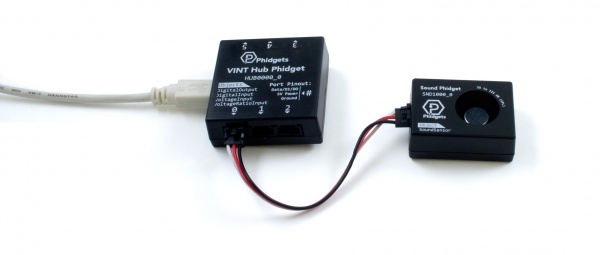 Connect the SND1000 to your VINT Hub using the Phidget cable.
Connect the VINT Hub to your computer using the USB cable.

Now that you have everything together, let's start using the SND1000!
Using the SND1000
Phidget Control Panel
In order to demonstrate the functionality of the SND1000, the Phidget Control Panel running on a Windows machine will be used.

The Phidget Control Panel is available for use on both macOS and Windows machines.
Windows
To open the Phidget Control Panel on Windows, find the

icon in the taskbar. If it is not there, open up the start menu and search for Phidget Control Panel

macOS
To open the Phidget Control Panel on macOS, open Finder and navigate to the Phidget Control Panel in the Applications list. Double click on the

icon to bring up the Phidget Control Panel.

For more information, take a look at the getting started guide for your operating system:

Linux users can follow the getting started with Linux guide and continue reading here for more information about the SND1000.
First Look
After plugging the SND1000 into your computer and opening the Phidget Control Panel, you will see something like this: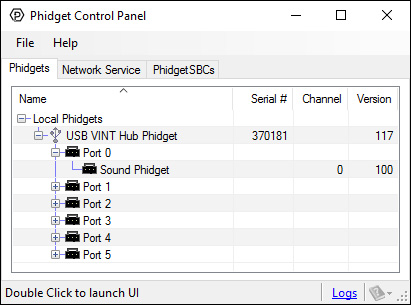 The Phidget Control Panel will list all connected Phidgets and associated objects, as well as the following information:
Serial number: allows you to differentiate between similar Phidgets.
Channel: allows you to differentiate between similar objects on a Phidget.
Version number: corresponds to the firmware version your Phidget is running. If your Phidget is listed in red, your firmware is out of date. Update the firmware by double-clicking the entry.

The Phidget Control Panel can also be used to test your device. Double-clicking on an object will open an example.
Sound Sensor
Double-click on the Sound Sensor object, labelled Sound Phidget, in order to run the example:


General information about the selected object will be displayed at the top of the window. You can also experiment with the following functionality:
Modify the change trigger and/or data interval value by dragging the sliders. For more information on these settings, see the data interval/change trigger page.
Use the SPL Range drop-down menu to select the lowest possible range that the level of sound you're measuring will fall within (smaller ranges have higher resolution).
Use the Speaker Beep tool to emit a 2.5 second beep of the specified frequency. View the frequency bands and see how they respond.
Technical Details
Acoustic Weightings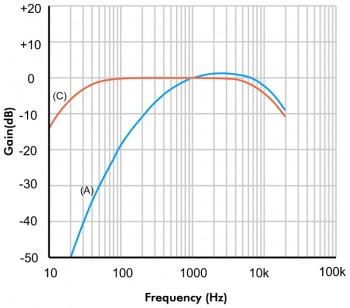 Depending on your application, you may be interested in acoustic data with weightings applied. The SND1000 returns a SPL value with the A-weighting applied, C-weighting applied, and with no acoustic weighting applied.

Sensitivity
The microphone on the SND1000 is slightly more responsive to some frequencies than others. The following graph illustrates this difference:

What to do Next
Software Overview - Find your preferred programming language here to learn how to write your own code with Phidgets!
General Phidget Programming - Read this general guide to the various aspects of programming with Phidgets. Learn how to log data into a spreadsheet, use Phidgets over the network, and much more.
Phidget22 API - The API is a universal library of all functions and definitions for programming with Phidgets. Just select your language and device and it'll give you a complete list of all properties, methods, events, and enumerations that are at your disposal.
Product Specifications
Board Properties

Controlled By

VINT
Sensor Properties

Sound Level Min

* 34 dB

Sound Level Max

102 dB

Sampling Interval Max

1000 ms/sample

Sampling Interval Min

100 ms/sample

Electrical Properties

Current Consumption Max

26 mA

Current Consumption Min

(unconfigured) 16 μA

Physical Properties

Operating Temperature Min

-20 °C

Operating Temperature Max

70 °C
* - Below 34 dB, the sensor will be picking up white noise.
Software Objects
| Channel Name | API | Channel |
| --- | --- | --- |
| Sound Sensor | SoundSensor | 0 |
API
Documents
Library & Driver Downloads
Code Samples
Language:
Product History
| Date | Board Revision | Device Version | Comment |
| --- | --- | --- | --- |
| June 2017 | 0 | 101 | Product Release |
| June 2017 | 0 | 102 | Fixed issue where board continually reset |
Have a look at our sound sensors:
Product
Board Properties
Sensor Properties
Image
Part Number
Price

Controlled By

Sound Level Min

Sound Level Max

SND1000_0

$15.00

VINT

* 34 dB

102 dB