If you're looking for a convenient way to get a 5V DC power source from your VINT Hub, this little adapter will do the trick. It connects directly to a VINT port using a Phidget Cable, giving you access to the Hub's 5V supply on the terminal blocks. By opening the Hub port in DigitalOutput mode, you can toggle the 5V provided by this adapter on and off.
VINT Hubs
This device can be controlled by a VINT Hub. For more information about VINT, have a look at the VINT Primer. You can use a Phidget Cable to simply and easily connect the two devices. Here's a list of all of the different VINT Hubs currently available:
Product
Board
Image
Part Number
Price

Number of VINT Ports

Controlled By

HUB0001_0

$30.00

6
USB (Mini-USB)
HUB5000_0

$60.00

6
Local Network (Ethernet or Wi-Fi)
SBC3003_0

$120.00

6
—
Phidget Cables
Use a Phidget cable to connect this device to the hub. You can solder multiple cables together in order to make even longer Phidget cables, but you should be aware of the effects of having long wires in your system.
Part 1: Setup
Part 2: Using Your Phidget
About
The PSU2000 is a simple way to provide 5V DC power to a circuit or sensor. You interact with the PSU2000 through the Digital Output Channel Class to turn the 5V power on and off.

Explore Your Phidget Channels Using The Control Panel
Double click on the Digital Output channel class under the port your PSU2000 is connected to.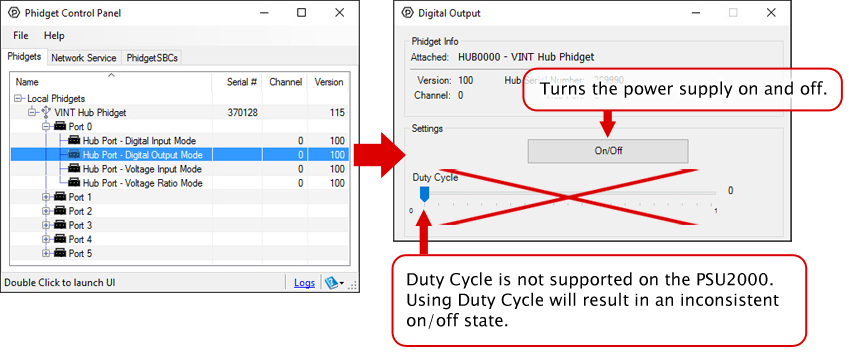 Part 3: Create your Program
1. Setting up your Programming Environment
Part 4: Advanced Topics and Troubleshooting
Expand All
Before you open a Phidget channel in your program, you can set these properties to specify which channel to open. You can find this information through the Control Panel.
1. Open the Control Panel and double-click on the red map pin icon:

2. The Addressing Information window will open. Here you will find all the information you need to address your Phidget in your program.


See the Phidget22 API for your language to determine exact syntax for each property.
Product Specifications
Board Properties

Controlled By

Digital Output
Electrical Properties

Output Voltage

5 V

Available External Current

* 500 mA

Turn-on Time Max

2 ms

Physical Properties

Object Temperature Min

-40 °C

Object Temperature Max

85 °C

Customs Information

Canadian HS Export Code

8471.80.00

American HTS Import Code

8471.80.40.00

Country of Origin

CN (China)
*
- USB current is specified at 500mA, but newer USB ports often provide higher current, in which case more current would be available from the PSU2000. When using this adapter with a VINT Hub that is powered by an external power supply instead of USB, the available power will vary based on the power supply used.
Documents
Product History
| Date | Board Revision | Device Version | Comment |
| --- | --- | --- | --- |
| July 2020 | 0 | N/A | Product Release |
This device doesn't have an API of its own. It is controlled by opening a DigitalOutput channel on the Phidget that it's connected to. For a list of compatible Phidgets with Digital Output, see the Connection & Compatibility tab.
You can find details for the DigitalOutput API on the API tab for the Phidget that this sensor connects to.
Here's a list of DC power source adapters:
Product
Electrical Properties
Image
Part Number
Price

Output Voltage

Output Voltage Min

Output Voltage Max

PSU2000_0

$10.00

5 V

—
—
PSU2001_0

$12.00

—

1.5 V DC

5 V DC

PSU2002_0

$15.00

—

5 V DC

24 V DC
If you're looking for a DC supply that can be adjusted from your program, you should use a voltage output Phidget: