In complex mechanical systems, it is often very difficult to accurately measure the movement of a single part, particularly if it has several degrees of freedom. The draw wire potentiometer is a versatile solution to this very problem; it can be attached to a part using an M5 screw or fastened to the end with a zip tie, and the potentiometer itself has a pair of M5 screw threads on the back for easy installation.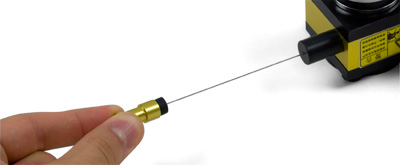 When the wire is pulled out, the sensor produces a voltage to describe the length of wire exposed. The reel is spring loaded, so it will retract when there is no tension in the wire. Multiple draw wire sensors could be used to track the position in more than one dimension.
Connection
This sensor now comes with a Phidget cable adapter soldered to it, so you can connect it to your Hub or Interfacekit with any Phidget cable. This sensor can be used with any device that has an analog input. See the Connection & Compatibility tab for details.
Phidget Cables
Below is a full list of Phidget cables you can use to connect this sensor to your Hub. You can solder multiple cables together in order to make even longer Phidget cables, but you should be aware of the effects of having long wires in your system.
Product
Physical Properties
Part Number
Price
Cable Length

$2.00

600 mm

$1.50

100 mm

$3.00

3.5 m

$2.25

1.2 m

$2.75

1.8 m

$1.75

300 mm

$2.00

900 mm

$2.50

1.5 m
Interface Boards and Hubs
This potentiometer can be read by any Phidget with an Analog Input or VINT Hub port. VINT Hub ports can behave just like Analog Inputs, but have the added flexibility of being able to be used as digital inputs, digital outputs, or ports to communicate with VINT devices. For more information about VINT, see the VINT Overview page.
Product
Voltage Inputs
Part Number
Price

Number of Voltage Inputs

Voltage Input Resolution

PhidgetInterfaceKit 8/8/8 Mini-Format

$80.00

8

10 bit

PhidgetInterfaceKit 2/2/2

$50.00

2

10 bit

PhidgetInterfaceKit 8/8/8

$80.00

8

10 bit

PhidgetInterfaceKit 8/8/8

$80.00

8
—

PhidgetInterfaceKit 8/8/8 w/6 Port Hub

$110.00

8

10 bit

PhidgetTextLCD 20X2 : White : Integrated PhidgetInterfaceKit 8/8/8

$70.00

8

10 bit

$20.00

8

12 bit

$30.00

6 (Shared)

* 16 bit

$40.00

6 (Shared)
—

$24.00

1 (Shared)
—

$60.00

6 (Shared)

* 16 bit

$120.00

6 (Shared)

* 16 bit
Product Specifications
Sensor Properties
Sensor Type
Distance (Draw Wire)

Wire Pull Length

1 m

Potentiometer Impedance

5 kΩ

Repeatability Error Max

2 %

Electrical Properties

Supply Voltage Min

5 V DC

Supply Voltage Max

24 V DC

Physical Properties

IP Rating

IP54

Wire Load Maximum

16 kg

Wire Pull Speed Max

600 mm/s

Lifespan

200000 actuations

Weight

355 g

Operating Temperature Min

-10 °C

Operating Temperature Max

70 °C

Screw Thread Size

M5
Customs Information

Canadian HS Export Code

8501.10.00

American HTS Import Code

8501.10.40.40

Country of Origin

CN (China)
Documents