The 3606 LED is a square of brightness with four times the capacity of a regular LED and has a very wide light beam of 90°. Because of its brightness it is not recommended as an indicator light.
Packaging
Comes in an Antistatic pouch containing 5 LEDs
Product Specifications
Light Properties
Emitting Color
Green

Controlled By

Digital Output (5V)

Dominant Wavelength

520 nm

Luminous Intensity

10 cd

Beam Angle

90°

Electrical Properties

Forward Voltage Min

3 V DC

Forward Voltage Max

3.4 V DC

Forward Current

80 mA

Customs Information

Canadian HS Export Code

8541.41.00

American HTS Import Code

8541.41.00.00

Country of Origin

CN (China)
LED Controllers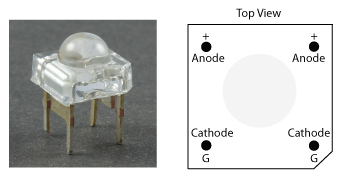 Here are the options available for interfacing these LEDs to your computer. Our specialized LED controllers offer features like dimming and current control, but any Phidget with digital outputs will work for basic applications where an LED just needs to be turned on and off.
When connecting to an LED output, use the LED cable and connect the anode to the red wire and the cathode to the black wire.
When connecting to ordinary digital outputs, connect the anode to the Digital Output and the cathode to Ground.
Warning: When mixing Super Flux LEDs of different colors, check the connection diagram for each colour to ensure that they are properly connected.
For more information on LEDs, visit the LED Primer.
Product
Digital Outputs
Board Properties
Part Number
Price
Number of Digital Outputs
Number of LED Outputs

PhidgetInterfaceKit 8/8/8 Mini-Format

$80.00

8
—

PhidgetInterfaceKit 2/2/2

$50.00

2
—

PhidgetInterfaceKit 8/8/8

$80.00

8
—

PhidgetInterfaceKit 8/8/8

$80.00

8
—

PhidgetInterfaceKit 8/8/8 w/6 Port Hub

$110.00

8
—

$78.00

—
64

PhidgetTextLCD 20X2 : White : Integrated PhidgetInterfaceKit 8/8/8

$70.00

8
—

$30.00

6 (Shared)
—

$60.00

6 (Shared)
—

$50.00

—
32

4x Digital Output Phidget

$15.00

4
—
If you want a different color or form factor, here are all of the LEDs we have available:
Product
Light Properties
Part Number
Price
Emitting Color

Dominant Wavelength

Luminous Intensity

Beam Angle

$3.00

Red

625 nm

3.5 cd

25°

10mm Blue LED (Bag of 10)

$3.00

Blue

467 nm

7 cd

25°

10mm Yellow LED (Bag of 15)

$3.00

Yellow

590 nm

3.5 cd

25°

5mm Four Chip Super Flux Red (Bag of 5)

$3.00

Red

625 nm

7 cd

90°

5mm Four Chip Super Flux Blue (Bag of 5)

$3.00

Blue

467 nm

2.5 cd

90°

5mm Four Chip Super Flux Yellow (Bag of 5)

$3.00

Yellow

590 nm

7 cd

90°

5mm Four Chip Super Flux White (Bag of 5)

$3.00

White
—

9 cd

90°

5mm RGB Super Flux ( Bag of 5 )

$3.00

—
—
—
—

5mm Diffused Red (Bag of 30)

$3.00

Red

635 nm

390 mcd

40°

5mm Diffused Yellow/Green (Bag of 30)

$3.00

Yellow/Green

570 nm

80 mcd

40°

5mm Diffused Blue (Bag of 20)

$3.00

Blue

465 nm

450 mcd

40°