Part 1: Setup
Part 2: Using Your Phidget
About

The OUT1000 can provide a DC voltage between 0 and 4.2 volts with a resolution of 1mV. This Phidget is ideal for analog voltage-controlled devices.
Explore Your Phidget Channels Using The Control Panel
You can use your Control Panel to explore your Phidget's channels.
1. Open your Control Panel, and you will find the Voltage Output channel: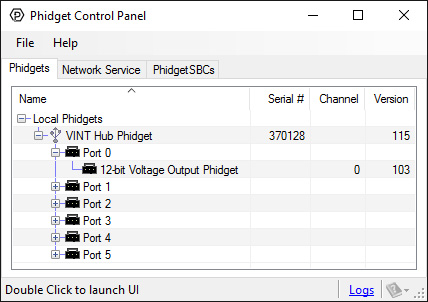 2. Double click on the channel to open an example program. This channel belongs to the Voltage Output channel class:
Expand All
In your Control Panel, double click on "12-bit Voltage Output Phidget":
Part 3: Create your Program
1. Setting up your Programming Environment
Part 4: Advanced Topics and Troubleshooting
Expand All
Before you open a Phidget channel in your program, you can set these properties to specify which channel to open. You can find this information through the Control Panel.
1. Open the Control Panel and double-click on the red map pin icon:

2. The Addressing Information window will open. Here you will find all the information you need to address your Phidget in your program.


See the Phidget22 API for your language to determine exact syntax for each property.
To ensure maximum voltage precision across the device's full range, the OUT1000 Phidget should be subjected to a minimal current draw, ideally less than 3mA. However, in the event you plan to power a small load with this device, it will either be sourcing or sinking current when in use. When it's connected to a circuit with a lower voltage potential than its own voltage setting, the current will be flowing out from the OUT1000 into the circuit, so it will be sourcing current. When it's connected to a circuit with a higher voltage potential than the voltage it's set to, the current will flow from the circuit into the OUT1000, meaning it will be sinking current.


The OUT1000 can source or sink up to 15mA of current depending on the selected output voltage. The chart below shows the maximum available voltage for a given expected current draw.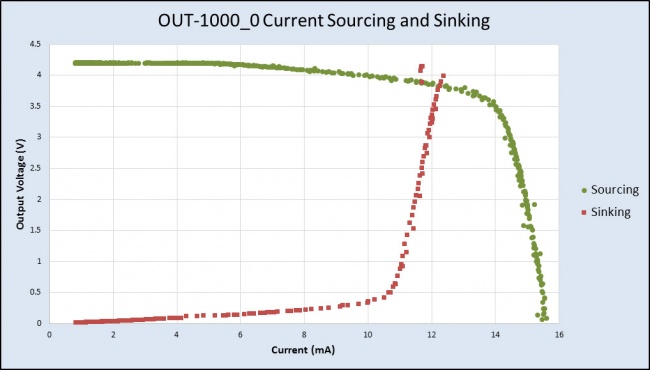 The OUT1000 may have an unpredictable output voltage for a very short time immediately after the device changes modes or is turned on. If this is a problem in your application, and you have no way to ignore it via software, we recommend using a solid-state relay to switch the output on once it has stabilized.