Part 1: Setup
Part 2: Using Your Phidget
About
The MOT1101 combines an accelerometer (±8g), gyroscope (± 2000°/s), and magnetometer (± 8 G). Each sensor measures in the x, y, and z-axis. You can also use the Spatial object to obtain data from all three sensors, synchronized to the same timestamp.

Explore Your Phidget Channels Using The Control Panel
You can use your Control Panel to explore your Phidget's channels.
1. Open your Control Panel, and you will find the following channels: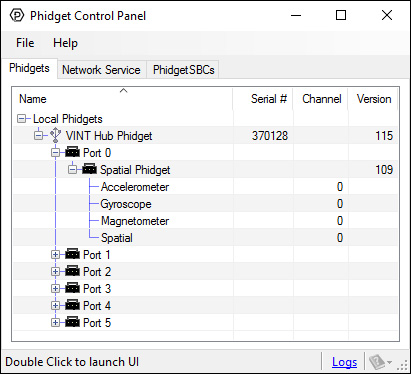 2. Double click on a channel to open an example program. Each channel belongs to a different channel class:
Expand All
In your Control Panel, double click on "Accelerometer":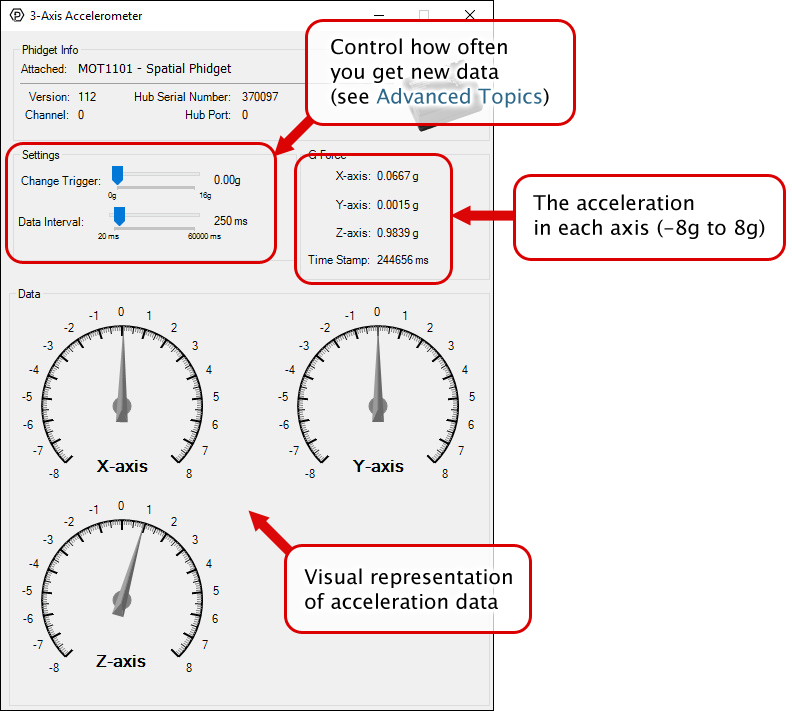 In your Control Panel, double click on "Gyroscope":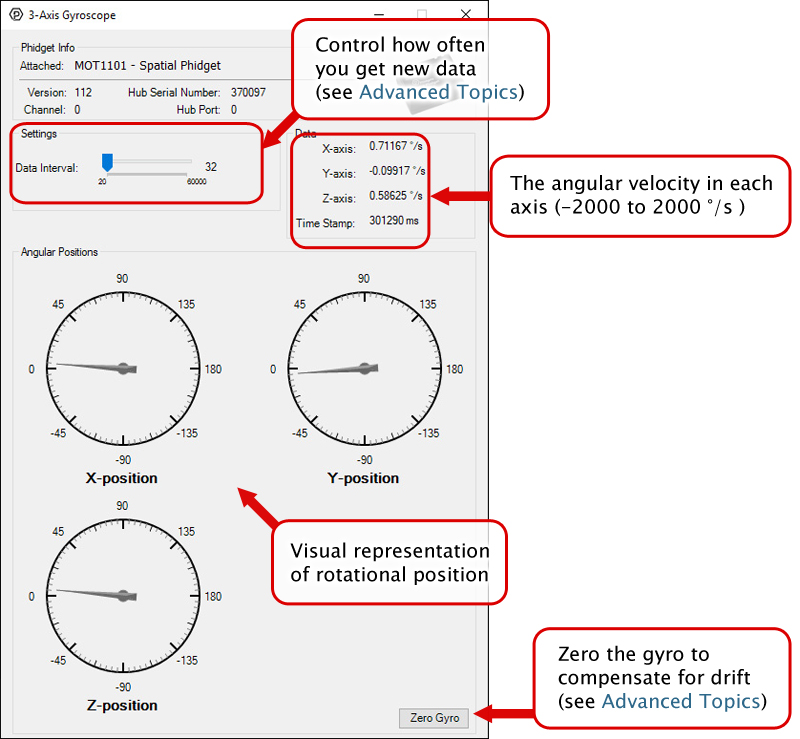 In your Control Panel, double click on "Magnetometer":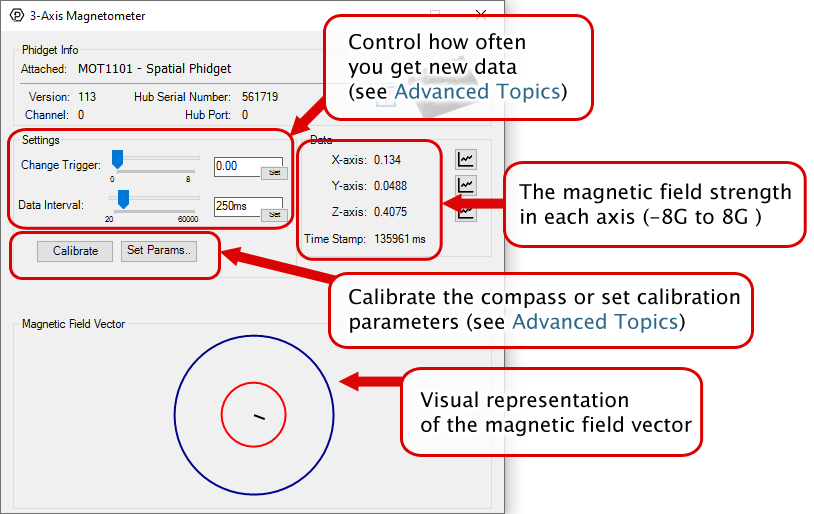 In your Control Panel, double click on "Spatial":
Part 3: Create your Program
1. Setting up your Programming Environment
Part 4: Advanced Topics and Troubleshooting
Expand All
Before you open a Phidget channel in your program, you can set these properties to specify which channel to open. You can find this information through the Control Panel.
1. Open the Control Panel and double-click on the red map pin icon:

2. The Addressing Information window will open. Here you will find all the information you need to address your Phidget in your program.


See the Phidget22 API for your language to determine exact syntax for each property.
In the Phidget Control Panel, open the channel for your device and click on the

icon next to the data type that you want to plot. This will open up a new window: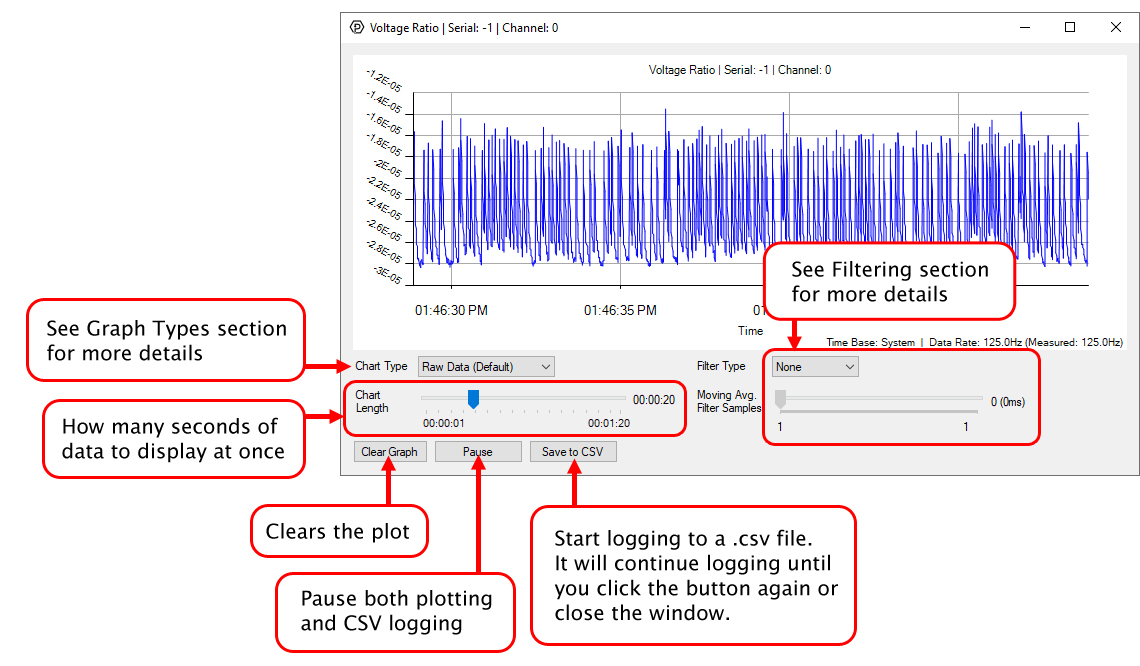 If you need more complex functionality such as logging multiple sensors to the same sheet or performing calculations on the data, you'll need to write your own program. Generally this will involve addressing the correct channel, opening it, and then creating an Event Handler and adding graphing/logging code to it.
The quickest way to get started is to download some sample code for your desired programming language and then search google for logging or plotting in that language (e.g. "how to log to csv in python") and add the code to the existing change handler.
Filtering
You can perform filtering on the raw data in order to reduce noise in your graph. For more information, see the Control Panel Graphing page.
Graph Type
You can perform a transform on the incoming data to get different graph types that may provide insights into your sensor data. For more information on how to use these graph types, see the Control Panel Graphing page.
The Change Trigger is the minimum change in the sensor data needed to trigger a new data event. The Data Interval is the time (in ms) between data events sent out from your Phidget. You can modify one or both of these values to achieve different data outputs. You can learn more about these two properties here.
Magnetometer Calibration Guide
In order to get accurate results from your spatial's compass you will need to provide calibration parameters.
Follow this guide to complete the calibration process.
1. Open the Phidget Control Panel and right click on your Spatial Phidget. Select Calibrate Magnetometer.
2. Go to the webpage listed in the window that opens (or click this link):
3. Enter your full address including postal code and click Get & Add Lat / Lon.
This will cause numbers to appear in the left section. Click Calculate.
4. Grab the Total Field value from the window that pops up and convert it from nT to G by dividing by 10000. Put the new gauss value into the Local Field Strength field in the Magnetometer Calibrator.
5. Make sure your Phidget Spatial is firmly in the position you intend to calibrate it for, and begin by clicking the Start button.
6. Rotate the Phidget around so that the graph on screen begins to draw a complete sphere. This will take a few minutes. Don't worry if the result doesn't look like a perfect sphere, just try to rotate the Phidget in a way that fills in as much of the empty regions as possible. If the Phidget is mounted in a vehicle, drive it around and the calibrator will fill out a flat circle instead of a sphere.
When you're finished, click Stop.
7. The calibration is now complete. Calibration values have been saved to the on-board flash memory, so it'll remember this calibration even if the device is unplugged.
You can find the calibration parameters in the text box in case you want to quickly recalibrate this Phidget or calibrate a replacement that will sit in the same installation. You can use these values in the setMagnetometerCorrectionParameters method. See our API Documentation for more details.