The new generation of motor controllers from Phidgets Inc. are able to rapidly change motor directions, strongly brake the motor, and produce power with regenerative braking. Battery powered systems can easily absorb these surges of power - but most Power Supplies will immediately fail if a power surge is detected on the output.
The SAF2000_0 has three functions:
Prevent power on the output from flowing back to the input
Clamp the output at 37 Volts during power surges, to protect the motor controllers
Conveniently convert a 5.5x2.1mm Power Jack to a terminal block
We strongly recommend using this Phidget according to the table below:
Recommended Use
Power Supplies
This Phidget protects a power supply between 0 and 30V DC. Check the product page or data sheet of the device being powered to determine how much current is needed and what voltage range is permissable. Select the power supply from the list below that matches your region's wall socket type.
Product
Electrical Properties
Physical Properties
Image
Part Number
Price

Power Supply Current

Output Voltage

Wall Plug Style

3022_0

$10.00

2 A

12 V

Australian
3023_1

$10.00

2 A

12 V

European
3024_1

$10.00

2 A

12 V

North American
3025_0

$10.00

2 A

12 V

British
3084_0

$1.50

500 mA

12 V

European
3085_0

$1.50

500 mA

12 V

North American
3086_0

$10.00

1 A

24 V

North American
PSU4013_0

$20.00

2.5 A

24 V

—
PSU4014_0

$40.00

5 A

24 V

—
PSU4015_0

$20.00

1 A

24 V

—
PSU4016_0

$40.00

15 A

24 V

—
PSU4017_0

$75.00

15 A

24 V

—
PSU4018_0

$20.00

5 A

12 V

—
Getting Started
Welcome to the SAF2000 user guide! In order to get started, make sure you have the following hardware on hand:
Power Supply
powered device such as a motor controller
Wire
Next, you will need to connect the pieces: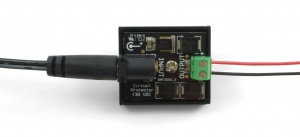 Connect the power supply to the barrel jack on the SAF2000.
Connect wires from the SAF2000's ground and power terminals to the device's ground and power terminals. Ensure that you use wire of appropriate gauge for the amount of current in your system.
Follow the instructions on the User Guide for the powered device you're using.
Technical Details
The SAF2000 protects both your power supply and your device from voltage spikes caused by reverse EMF generated by braking and reversing DC motors. In the event of such a surge, it prevents current from flowing back into the power supply and clamps the powered device's supply voltage to a maximum of 37V, dissipating the excess power until the surge has passed.
This device uses a diode to prevent current flowing back into the power supply, so expect a slight drop in the voltage seen by the powered device when in normal operation.
What to do Next
Programming Languages - Find your preferred programming language here and learn how to write your own code with Phidgets!
Phidget Programming Basics - Once you have set up Phidgets to work with your programming environment, we recommend you read our page on to learn the fundamentals of programming with Phidgets.
Product Specifications
Electrical Properties

Trip Voltage

37 V DC

Continuous Current

5 A

Physical Properties

Operating Temperature Max

85 °C

Operating Temperature Min

-40 °C

Recommended Wire Size

16 - 26 AWG

Power Jack

5.5x2.1mm, Center Positive
Documents
Product History
| Date | Board Revision | Device Version | Comment |
| --- | --- | --- | --- |
| June 2017 | 0 | N/A | Product Release |