The 3650 is a 2 lines x 20 characters LCD module with a viewing area of 83 x 18.6mm. From software, the LCD contrast, and the LED backlight brightness can be adjusted.
You can also select between a "dash" cursor or a blinking "square" cursor and turn the cursor on or off.
Comes Packaged with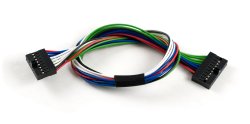 Connection
This LCD connects to a TextLCD adapter using the included cable. See the Connection & Compatibility tab for details.
LCD Interfaces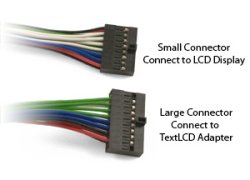 This LCD screen can be controlled by one of our TextLCD adapter boards. The cable included with this screen will allow you to easily connect it to the following boards:
Product
Image
Part Number
Price
1204_0B

$30.00
LCD Cables
This LCD screen comes with a customized cable that connects it to a Phidgets TextLCD interface. If you need a replacement cable for this screen, you can find one in the table below:
Product
Physical Properties
Image
Part Number
Price
Connector A
Connector B
Cable Length

Cable Gauge

3014_0

$3.50

65863
65863

300 mm

26 AWG
Product Specifications
LCD Screen

Dots per Character

5 x 8
Character Width

3.2 mm

Number of Rows
2
Characters per Row
20

Backlight Current Consumption Max

140 mA

Board

Controlled By

LCD Adapter

Current Consumption Max

3 mA

Supply Voltage

5 V DC

Operating Temperature Min

-20 °C

Operating Temperature Max

70 °C
Documents
Have a look at our LCD screens:
Product
LCD Screen
Image
Part Number
Price
Number of Rows
Characters per Row
Character Width
3650_0

$18.00

2
20

3.2 mm

3651_0

$14.00

2
20

2.5 mm

3652_0

$25.00

2
20

5.9 mm

3653_0

$25.00

2
40

3.2 mm

3654_0

$20.00

4
20

3 mm

3655_0

$35.00

4
40

2.8 mm
If you want a different means of using LCD, here are our controllers and built-in screens: