Part 1: Setup
Part 2: Using Your Phidget
About
The OUT1002 can provide a DC voltage between -10V and +10V on the 10V terminal. The 5V terminal provides a voltage between 0V to 5V. The 5V terminal has a higher resolution than the 10V terminal. This Phidget is ideal for analog voltage-controlled devices.

Note: The two terminals cannot be controlled separately. You must select a single mode by setting the VoltageOutputRange in software, and only use the terminals for that mode.
Explore Your Phidget Channels Using The Control Panel
You can use your Control Panel to explore your Phidget's channels.
1. Open your Control Panel, and you will find the Isolated 16-Bit Voltage Output Phidget channel: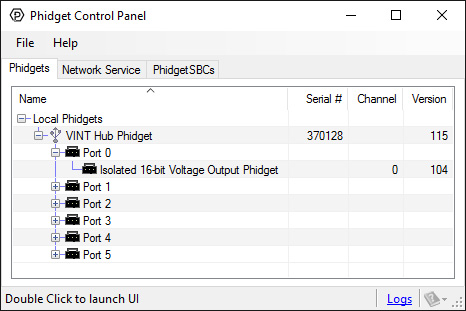 2. Double click on the channel to open an example program. This channel belongs to the Voltage Output channel class:
Expand All
In your Control Panel, double click on "Isolated 16-Bit Voltage Output Phidget":

Part 3: Create your Program
1. Setting up your Programming Environment
Part 4: Advanced Topics and Troubleshooting
Expand All
Before you open a Phidget channel in your program, you can set these properties to specify which channel to open. You can find this information through the Control Panel.
1. Open the Control Panel and double-click on the red map pin icon:

2. The Addressing Information window will open. Here you will find all the information you need to address your Phidget in your program.


See the Phidget22 API for your language to determine exact syntax for each property.
To ensure maximum voltage precision across the device's full range, the OUT1002 Phidget should be subjected to a minimal current draw, ideally less than 5mA in ±10V mode. 5V mode should only be used to set a voltage in high-impedance applications. However, in the event you plan to power a small load with this device, it will either be sourcing or sinking current when in use. When it's connected to a circuit with a lower voltage potential than its own voltage setting, the current will be flowing out from the OUT1002 into the circuit, so it will be sourcing current. When it's connected to a circuit with a higher voltage potential than the voltage it's set to, the current will flow from the circuit into the OUT1002 for a current sinking situation.

The OUT1002 can source or sink up to 26mA of current depending on the selected output voltage and mode. Please refer to the chart below to determine the amount of current that can be sourced or sunk.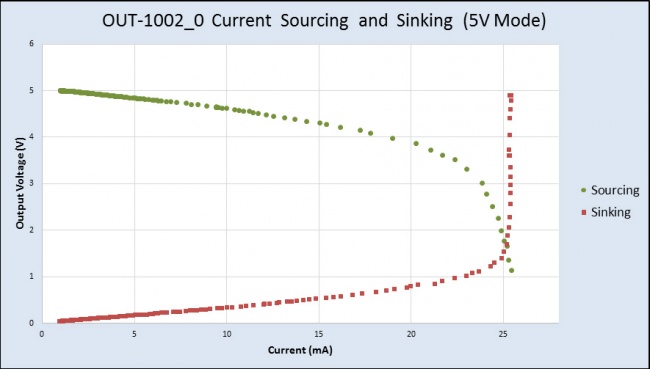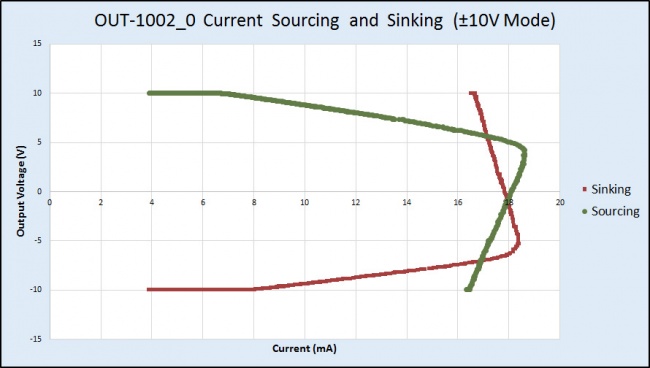 For example, if the connected circuit is pulling 25mA of current, the OUT1002 will only be able to provide a maximum of 2V (in 0-5V mode), even if you try to set it to a higher value.