Proximity sensors are the most common and affordable solution for no-touch object detection. The most commonly-used proximity sensor is the inductive type, which generates an electromagnetic field to sense metal objects passing close to its face. This is usually the easiest sensing technology to apply in applications where the metal object to be detected is within an inch or two of the sensor face.
Note that the standard detecting distance is based on a standard shape approaching the sensor in a standard way. The real detecting distance will vary depending on the shape, thickness and type of metal being detected and will in general be between 70 to 80% of the standard distance.
Comes packaged with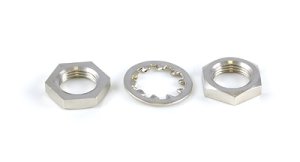 Connection
You can use a 12V sensor adapter to connect this sensor to your InterfaceKit or Hub. See the Connection & Compatibility tab for more details.
12V Sensor Adapter
This sensor requires a 12V power supply and outputs a 0-5V signal depending on wheter the sensor is triggered. For a simple way to provide 12 volts, you can use our 12V sensor adapter. It uses the 5V supply from your InterfaceKit or Hub and steps it up to 12V while simultaneously passing the 0-5V signal from the sensor into the Phidget cable.
To connect the sensor, connect the wires as follows:
| Function | 3523 | 1144 |
| --- | --- | --- |
| +12V | Brown | +12V |
| Ground | Blue | GND |
| Data | Black | ANLG |
Product
Sensor Properties
Image
Part Number
Price

Controlled By

1144_0

$11.00

Voltage Input (0-5V)
Alternatively, you can use the Versatile Input Phidget, which is a VINT-controlled device that can interface a wide variety of sensors, including transducers that run on a 12V supply.
To connect the sensor, connect the wires as follows:
| Function | 3523 | 1144 |
| --- | --- | --- |
| +12V | Brown | 12V/24V |
| Ground | Blue | Gnd |
| Data | Black | Digital |
Product
Board Properties
Image
Part Number
Price

Controlled By

DAQ1400_0

$20.00

VINT
Product Specifications
Sensor Properties

Controlled By

Digital Input (5V)

Detecting Distance Max

15 mm

Setting Distance Max

10.5 mm

Sensor Type
Proximity (Inductive)

Sensor Output Switch Type

Normally Open

Detection Hysteresis Max

10 %

Sensor Response Time Max

5 ms

Electrical Properties

Supply Voltage Min

12 V DC

Supply Voltage Max

24 V DC

Current Consumption Max

10 mA

Protection Circuitry

Reverse Polarity, Surge, Overload and Short-Circuit
Physical Properties
Cable Length

2 m

Material

ABS Resin / Metal

Operating Indicator

Red LED

IP Rating

IP67

Operating Temperature Min

-25 °C

Operating Temperature Max

70 °C

Operating Humidity Min

35 %RH

Operating Humidity Max

95 %RH

Customs Information

Canadian HS Export Code

8536.50.00

American HTS Import Code

8536.50.90.65

Country of Origin

CN (China)
Documents
Have a look at our proximity sensors:
Product
Sensor Properties
Image
Part Number
Price

Controlled By

Sensor Type

Detecting Distance Max

1103_1B

$9.00

VoltageRatio Input
Distance (Infrared)

100 mm

3523_0

$35.00

Digital Input (5V)
Proximity (Capacitive)

8 mm

3524_0

$50.00

Digital Input (5V)
Proximity (Capacitive)

15 mm

3525_0

$50.00

Digital Input (5V)
Through-Beam (Photoelectric)

10 m

3527_0

$35.00

Digital Input (5V)
Proximity (Inductive)

15 mm

3528_0

$10.00

Digital Input (5V)
Proximity (Inductive)

5 mm

3560_0

$2.50

Digital Input (5V)
Proximity (Magnetic)

19 mm

3562_0

$2.50

Digital Input (5V)
Proximity (Magnetic)

12 mm

PRX2300_0

$10.00

VoltageInput or Digital Input
Proximity (Infrared)

15 mm