Replaced by the HUB0003 - 7-Port USB Hub
This ultra small 4-port USB 2.0 allows you to connect up to four USB devices to a single USB port on a PC/Mac/laptop. It meets USB 2.0 Specifications for hi-speed data transmission rates up to 480Mbps. This USB 2.0 device is backwards compatible so that it will function with both USB 2.0 devices as well as USB 1.1 devices.
The 3403 is a bus powered USB Hub, that describes itself as being self powered in order to let you use USB devices that consume more than the 100mA bus-powered limit. The 3403 does not require an external power supply.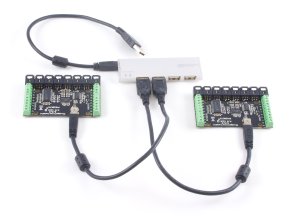 The 3403 can turn one USB port into four and you can add or remove a device at any time. You can use it to expand the USB ports on your PC or to expand the USB ports on the following two Phidgets:
Power Considerations
It is quite easy to build a system that is not stable, by adding to the Hub devices that consume too much power.
Even if the cables are very short, if the USB devices plugged into the hub consume more than 500mA all together, the controlling Hub/PC upstream may over-current and shut down the Hub and it's devices. Many Phidgets will consume a very small amount of power, which increases depending on how they are used. If you are planning to plug into this hub several Phidgets that can together consume more than 500mA, you need to understand when each Phidget consumes more power to keep the total under 500mA at any time.
You can check the Product Specifications of each Phidget device that you will want to connect to the hub to calculate the total amount of power that they are likely to use.
If more bus-powered Hubs are plugged into this hub, they are still limited to 500mA total for all the ports.
Warning
| | |
| --- | --- |
| | Unless the USB devices you are using consume less than 100mA, you should keep the USB cables as short as possible. The USB cable length between the Hub and the PC/Hub it is plugged into (upstream) is particularly important. |
USB Cables
Use a USB cable to connect Phidgets to this USB hub. We have a number of different lengths available, although the maximum length of a USB cable is 5 meters due to limitations in the timing protocol. For longer distances, we recommend that you use a Single Board Computer to control the Phidget remotely.
Product
Physical Properties
Part Number
Price
Connector A
Connector B
Cable Length

Mini-USB Cable 28cm 24AWG

$3.00

USB Type A
USB Mini-B

280 mm

Mini-USB Cable 180cm 24AWG

$4.00

USB Type A
USB Mini-B

1.8 m

Mini-USB Cable 450cm 20AWG

$12.00

USB Type A
USB Mini-B

4.5 m

Mini-USB Cable 60cm 24AWG

$3.50

USB Type A
USB Mini-B

600 mm

Mini-USB Cable 120cm 24AWG

$4.00

USB Type A
USB Mini-B

1.2 m

Mini-USB Cable 83cm Right Angle

$4.50

USB Type A
USB Mini-B (90 degree)

830 mm
Product Specifications
USB Hub
Number of USB Ports
4

Controlled By

USB

Data Rate Max

480 Mbit/s

Available External Current

500 mA

Operating Indicator

Red LED (Power), Green LED (Access)
Customs Information

Canadian HS Export Code

8473.30.00

American HTS Import Code

8473.30.51.00

Country of Origin

CN (China)
Documents