This jaw type half-coupling can be used to connect a 17mm shaft to another shaft. It is held in place by two set screws, and fits together with another series 24 jaw coupling of any shaft size with a hard elastomer spider in between. See the Connection & Compatibility tab for a complete list of compatible couplings and spiders.
Jaw type couplings are ideal for high-torque applications and applications where shafts of two different sizes need to be coupled. This series of couplers are rated for torques as high as 610 kg·cm and speeds of up to 4000 rpm.
Assembly
This jaw type half-coupling connects to any other series 24 half-coupling with a coupling spider pressed in between. The other half and the spider are both sold separately.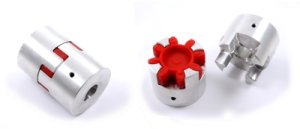 Jaw Coupling Spider
You'll need a coupling spider to connect this jaw coupling to another. You can find a list of compatible spiders below:
Jaw Couplings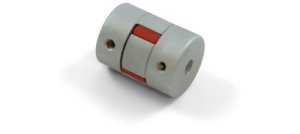 Jaw couplings are designed to connect to other jaws in the same series, which gives you the option of coupling two differently sized shafts together. Between the two jaw couplings, a coupling spider is used to hold them in place while still allowing for a small amount of flex. The jaw couplings in the list below will fit together with this coupling:
Rotary Shaft
If you're building a rotary transmission system of any kind, chances are you'll need some rotary shaft. Here's a list of rotary shaft compatible with this shaft coupler:
Ball Screws
Ball screws provide an easy means of converting rotary motion into precise linear positioning. You can use this shaft coupler to connect a motor shaft to the following ball screws:
Product Specifications
Physical Properties

Material

Aluminum

Coupling Rated Torque

611.8 kg·cm

Coupling Rated Speed

4000 RPM

Inner Diameter

17 mm

Hex Key Size Required

2.5 mm

Customs Information

Canadian HS Export Code

8483.60.00

American HTS Import Code

8483.60.80.00

Country of Origin

CN (China)
Documents