Measure -50 to 500°C with this stainless steel class B 3850ppm PT1000 RTD probe. As an RTD this probe offers excellent accuracy and very low drift in comparison to what a thermocouple can offer.
If you need to fix it to a panel or mount it inside an enclosure, have a look at the HDW4100 - 1/8" Mounting Nut or the HDW4101 - M12 Mounting Nut.

Note: While the 20cm tip of the probe can withstand up to 500°C, the wire and sheath cannot. When mounting this probe, ensure that everything beyond the tip of the probe is insulated from high temperatures in order to avoid inaccuracies or damage to the probe. Also, this RTD is not waterproof beyond the 20cm tip.
Connection
This RTD connects to an RTD interface. See the Connection & Compatibility tab for details.
RTD Interfaces
This PT1000 RTD can be read by connecting it to any of the RTD interfaces in the list below.
Function
TMP4110
RTD
RTD
Interface
EXC+
Red
EXC+
RTD+
Red
RTD+
RTD-
White
RTD-
EXC-
White
EXC-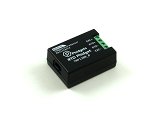 ID: TMP1200_0
RTD Phidget
$30.00
Mounting Nuts
This probe RTD can be quickly and easily mounted into the side of a panel or enclosure using a mounting nut. The end is threaded so it can be fastened in place with a nut and washer.
Product Specifications
Sensor Properties
Sensor Type
RTD
Temperature Sensor

Ambient Temperature Min

-50 °C

Ambient Temperature Max

500 °C

Class B RTD Temperature Error Max

±(0.30 + 0.005* t) °C†

Temperature Coefficient

3850 ppm/K

Physical Properties
Cable Length

1 m

Probe Diameter

3.2 mm

Cable Diameter

3 mm

Probe Material
Stainless Steel
Customs Information

Canadian HS Export Code

9025.19.00

American HTS Import Code

9025.19.80.85

Country of Origin

CN (China)
†Where t is the measured temperature (without respect to sign).