This adapter is designed to connect an Omega K-type Thermocouple with a Miniature Male Connector to a thermocouple interface that has terminal blocks.
For more information on thermocouples, visit the Thermocouple Primer.
Product Specifications
Physical Properties
Connector A
6 mm Stripped Wire
Connector B
Miniature Omega K-Type Thermocouple Connector (Female)
Cable Length

100 mm

Cable Gauge

28 AWG

Insulation Material
Teflon
Customs Information

Canadian HS Export Code

8544.42.10

American HTS Import Code

8544.42.20.00

Country of Origin

TW (Taiwan)
Thermocouple Interfaces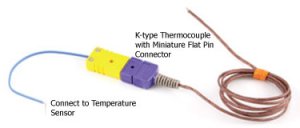 This thermocouple adapter connects an Omega K-type Thermocouple with Miniature Male Connector to the following interfaces:
Note: On the 1051 or TMP1100, connect the white thermocouple wire to (-) terminal block and the Red wire to the + terminal block. On the 1048 or TMP1101, connect the white wire to G and the red wire to input terminal block (numbered 0 to 3).
Product
Board
Thermocouple Input
Image
Part Number
Price

Controlled By

Number of Thermocouple Inputs

Thermocouple Voltage Resolution

1048_2B

$100.00

USB (Mini-USB)
4

100 nV DC

TMP1100_0

$30.00

VINT
1

1 μV DC

TMP1101_1

$35.00

VINT
4

1 μV DC
Thermocouple Accessories
Thermocouples cannot easily be soldered, since adding an additional metal junction will throw off the readings. The following products will help connect or extend thermocouple wires.