With an IP65 rating, this enclosure will protect your Phidgets from the elements. With proper installation of the foam rubber sealing ring, even the heaviest of rainstorms won't get through. The latched lid means you don't even need a screwdriver to get at the equipment inside.
Product Specifications
Physical Properties

Material

High impact ABS

IP Rating

65

Volume

approx. 2990 cm³

Dimensions

215x145x96 mm
Cable Connectors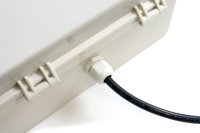 Getting wires in and out of an enclosure while keeping the whole system waterproof can be a challenge. These cable connectors and glands will simplify the process greatly. You can drill a hole in the side of the enclosure, and then install a connector or gland. Cable glands allow the cable to pass through the hole in once piece, while cable connectors have pins to solder to in the inside, and a connector on the outside for projects that benefit from having an easy disconnection/reconnection point.
Here are all of the waterproof project enclosures we carry:
Product
Physical Properties
Image
Part Number
Price

Material

Volume

Dimensions

BOX4200_0

$5.00

High impact ABS

approx. 550 cm³

108x83x63 mm
BOX4201_0

$8.00

High impact ABS

approx. 613 cm³

167x108x34 mm
BOX4202_0

$12.00

High impact ABS

approx. 695 cm³

130x80x67 mm
BOX4203_0

$10.00

High impact ABS

approx. 1425 cm³

192x112x67 mm
BOX4204_0

$12.00

High impact ABS

approx. 1425 cm³

192x112x67 mm
BOX4205_0

$12.00

High impact ABS

approx. 2525 cm³

223x143x80 mm
BOX4206_0

$15.00

High impact ABS

approx. 2525 cm³

223x143x80 mm
BOX4207_0

$20.00

High impact ABS

approx. 2990 cm³

215x145x96 mm