The 3852 Enclosure is designed to protect the 1018 - PhidgetInterfaceKit 8/8/8 while still giving you access to the ports and terminal blocks through openings in the enclosure.
There are mounting holes that go through the bottom of the enclosure, so the board can be mounted to a flat surface and the cover can snap on top.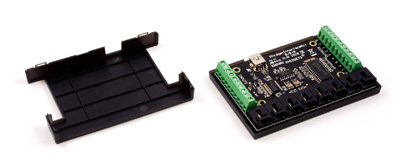 Note: PhidgetInterfaceKit and mounting screws not included.
Phidgets
This enclosure is desgined to fit the following Phidgets. See the "Resources" tab for assembly instructions.
Product Specifications
Physical Properties
Fits Board Revision
2

Material

Polycarbonate
Thickness

1.9 mm

IP Rating

20
Customs Information

Canadian HS Export Code

8473.30.00

American HTS Import Code

8473.30.51.00

Country of Origin

CN (China)
error: syntax error at or near "order"