This connector is the female half of a connection that will allow two cables to be securely connected while protecting the connection from the elements. It also allows for quick and easy detaching if you want to switch between external sensors for example. This unit is designed to connect to an enclosure and allow you to plug cables into the enclosure.
This connector is suitable for cables from 3 - 8mm in diameter.
Connection
This connector is designed to fit inside the wall of a waterproof plastic enclosure. For more details on installation and a list of compatible enclosures, see the Connection & Compatibility tab.
Cable Connectors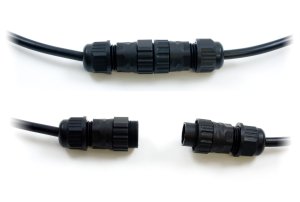 You can attach this connector to another by pushing to two together and twisting the ring on (the ring is part of the male connector). This cable connector mates with the following male connectors:
Product
Physical Properties
Image
Part Number
Price

Number of Conductors

Connector Type

CBL4405_0

$5.00

8
Male
Multi-conductor Cable
Multi-conductor cable is great for organizing multiple wires into a single cable. Just cut and strip the ends of the wires and solder them onto the connector's pins. Here's a list of 8-conductor cable we have for sale:
Product
Physical Properties
Image
Part Number
Price

Number of Conductors

Cable Gauge

Insulation Material
CBL4303_0

$2.00

/Meter
8

20 AWG

PVC
CBL4304_0

$1.50

/Meter
8

20 AWG

PVC
Project Enclosures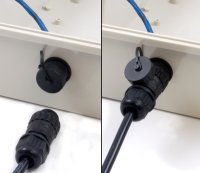 This cable connector makes it easy to create a connection point on the wall of an enclosure. You need to drill a hole approximately 17mm in diameter into the side of the enclosure, and then you can slide the connector through the hole and fasten it in place with the nut. The cable solders to the inside, and you can connect another cable connector of opposing gender to the outside of the enclosure (the matching connector is sold separately). When not in use, the cap can be screwed onto the enclosure's connector. Here's a list of all of the waterproof project enclosures we have available:
Product
Physical Properties
Image
Part Number
Price

Material

Volume

Dimensions

BOX4200_0

$5.00

High impact ABS

approx. 550 cm³

108x83x63 mm
BOX4201_0

$8.00

High impact ABS

approx. 613 cm³

167x108x34 mm
BOX4202_0

$12.00

High impact ABS

approx. 695 cm³

130x80x67 mm
BOX4203_0

$10.00

High impact ABS

approx. 1425 cm³

192x112x67 mm
BOX4204_0

$12.00

High impact ABS

approx. 1425 cm³

192x112x67 mm
BOX4205_0

$12.00

High impact ABS

approx. 2525 cm³

223x143x80 mm
BOX4206_0

$15.00

High impact ABS

approx. 2525 cm³

223x143x80 mm
BOX4207_0

$20.00

High impact ABS

approx. 2990 cm³

215x145x96 mm
Product Specifications
Physical Properties

Number of Conductors

8

IP Rating

68

Connector Type

Female (Enclosure)