Product Description
For AC switching applications, this solid state relay is economical and reliable. Using the digital outputs from a Phidgets device such as the OUT1100 - 4x Digital Output Phidget, you can control the relay to silently switch a AC circuit at 280V/25A or less. There's an indicator LED on the control side of the circuit so you can tell the state of the relay at a glance.
If your SSR is overheating, you should consider getting a heat sink for safety. See the Connection & Compatibility tab for a list of compatible heatsinks. This SSR comes with a heat transfer pad that can be placed between the metal base of the SSR and the surface it's mounted to in order to help encourage heat flow. It also comes with a varistor that can be used to protect your SSR against voltage spikes in some applications.
Comes Packaged with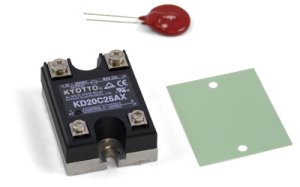 This SSR comes with a heat transfer pad and a TMOV20RP200E varistor. Use the heat transfer pad whenever mounting the SSR on a heat sink or metal surface. If you're switching a load at 120V or less, you can put the varistor across the load terminals in parallel with the rest of the load circuit in order to protect your relay from voltage spikes. If you're switching a load higher than 120V, do not use the varistor. For more information, see the Solid State Relay Primer.
Connection
This relay can be controlled using a Phidgets relay output board. See the Connection & Compatibility tab for details.
Warnings
If you're running the SSR close to it's maximum current rating, you'll probably need to mount it to a heat sink or a surface that can function as a heat sink.
Use the heat transfer pad between the SSR and the heat sink. Failure to do so can cause overheating and could damage the relay.
Make sure that the SSR terminal screws are tight. If the screws are not tight, the SSR will get damaged by heat generated when the power is ON.
When an SSR fails, it most often fails permanently closed - leaving your load powered, and possibly creating a fire or safety hazard. Be sure to have failsafes in these situations.
Make sure that you use the relay within the product specifications.
Ensure that the relay terminals are covered or protected when switching high voltage loads.
Digital Output Boards
This SSR can be controlled either by using a high-power digital output (such as those on the OUT1100 - 4x Digital Output Phidget) or by using an open-collector digital output and a 5V source, which can be done with the 1012 - PhidgetInterfaceKit 0/16/16.
Product
Board Properties
Image
Part Number
Price

Controlled By

1012_2B

$95.00

—
OUT1100_0

$15.00

VINT
Heatsinks
If you're switching high current devices or circuits, we recommend that you use a heatsink. In some applications, you may be able to mount the relay to a metal surface which can act as a heatsink by itself. This relay comes with a heat transfer pad that you can sandwich between the relay and the heatsink or mounting surface. When screwed on tight, it will eliminate any air gaps and ensure that the heat conducts from the relay to the heatsink. In cases where the heatsink cannot dissipate heat fast enough, you should add a fan to one end of the heatsink so that air is constantly moving through the fins.
Product Specifications
Electrical Properties

Isolation Method

Photoelectric

Dielectric Strength

2.5 kV AC

Control Voltage Min

4 V DC

Control Voltage Max

32 V DC

Load Voltage Max (AC)

280 V AC

Load Current Max (AC)

25 A

Load Surge Current

260 A

Relay Turn-on Type

Zero-crossing

Turn-on Time Max

2 ms

Physical Properties
Length

57 mm

Width

43 mm

Height

25 mm

Operating Temperature Min

-20 °C

Operating Temperature Max

80 °C

Other Properties

Manufacturer Part Number

KD20C25AX