Note: The 1040_0B is identical to the 1040_0, except that you have the option of whether you want to include the USB cable.
The Phidget GPS provides the longitude and latitude of the board's position in signed decimal degree format. The position accuracy (best case) is 2.5m CEP (Circular Error of Probability).
The 1040 also provides altitude, heading and velocity as well as the time and date. It will also let you know when it has a satellite fix.
The PhidgetGPS has a 3V rechargeable lithium battery to provide "hot starts" by remembering its previous positions. With a live battery, the 1040 can perform a signal re-acquisition in less than 1 second. The battery provides up to 1 month of operation before having to be recharged. Recharging an empty battery takes 24 hours.
Comes packaged with
An external active GPS antenna
Hardware mounting kit:
4x M3 Bolts (2cm Length)
4x Plastic spacers (5mm Length)
4x M3 Nuts
Product Specifications
Board

Controlled By

USB (Mini-USB)

API Object Name

GPS
Position Data Format
Signed Decimal Degree

Circular Error Probable (Best Case)

2.5 m

Velocity Error Max

100 mm/s

Timing Error Max

300 ns

Altitude Max

18 km

Velocity Max

515 m/s

Tracking Sensitivity

-161 dBm

Re-acquisition Time (Hot Start)

1 s

Update Rate

10 samples/s

Electrical Properties

USB Voltage Min

4.4 V DC

USB Voltage Max

5.3 V DC

Current Consumption Max

110 mA

Backup Battery Life

1 months

Battery Charge Time

24 h

USB Speed

Full Speed
Physical Properties

Operating Temperature Min

0 °C

Operating Temperature Max

70 °C
Software Objects
| Channel Name | API | Channel |
| --- | --- | --- |
| GPS | GPS | 0 |
API
Documents
Library & Driver Downloads
Code Samples
Product History
| Date | Board Revision | Device Version | Packaging Revision | Comment |
| --- | --- | --- | --- | --- |
| March 2011 | 0 | 100 | | Product Release, requires phidget21 libraries 2.1.8 or newer |
| May 2011 | 0 | 101 | | getLabelString fix for lables > 7 characters |
| January 2018 | 0 | 101 | B | Removed USB cable from packaging |
Getting Started
Welcome to the 1040 user guide! In order to get started, make sure you have the following hardware on hand:
USB cable and computer
GPS antenna

Next, you will need to connect the pieces: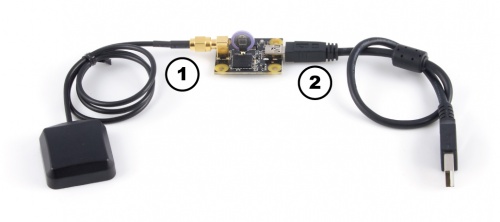 Connect the GPS antenna to the 1040 GPS Phidget.
Connect the Phidget to your computer using the USB cable.

Now that you have everything together, let's start using the 1040!
Using the 1040
Phidget Control Panel
In order to demonstrate the functionality of the 1040, the Phidget Control Panel running on a Windows machine will be used.

The Phidget Control Panel is available for use on both macOS and Windows machines. If you would like to follow along, first take a look at the getting started guide for your operating system:

Linux users can follow the getting started with Linux guide and continue reading here for more information about the 1040.
First Look
After plugging the 1040 into your computer and opening the Phidget Control Panel, you will see something like this: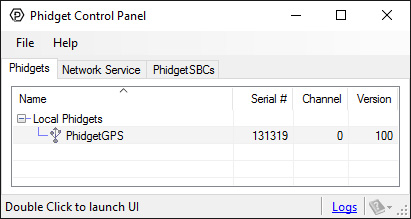 The Phidget Control Panel will list all connected Phidgets and associated objects, as well as the following information:
Serial number: allows you to differentiate between similar Phidgets.
Channel: allows you to differentiate between similar objects on a Phidget.
Version number: corresponds to the firmware version your Phidget is running. If your Phidget is listed in red, your firmware is out of date. Update the firmware by double-clicking the entry.

The Phidget Control Panel can also be used to test your device. Double-clicking on an object will open an example.
GPS
Double-click on the GPS object labelled PhidgetGPS in order to run the example: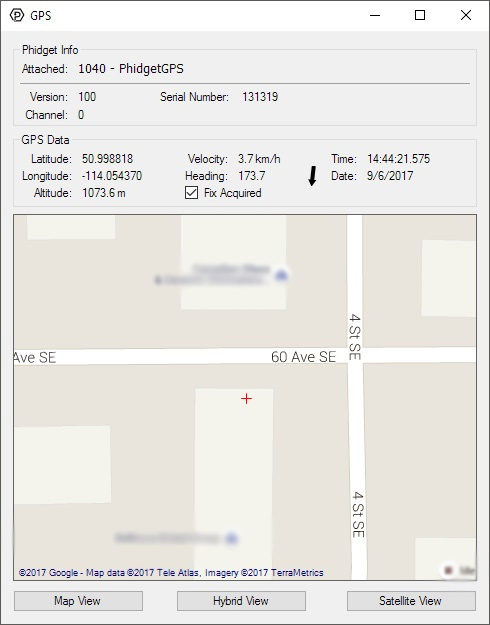 General information about the selected object will be displayed at the top of the window. You can also experiment with the following functionality:
GPS data will be displayed in real-time once a fix has been acquired.
Latitude: the current latitude position of the GPS antenna.
Longitude: the current longitude position of the GPS antenna.
Altitude: the current altitude of the GPS antenna in meters from mean sea level.
Velocity: the current speed over ground of the antenna in km/h.
Heading the current true course over ground in degrees.
Time and Date: the current time as transmitted by the GPS receiver.
Technical Details
Mounting
The 1040 has been sized so it may be mounted directly on top of any of our Spatial Phidgets:
WAAS
The 1040 does not support WAAS.
Further Reading
For more information, check out the GPS Primer.
What to do Next
Software Overview - Find your preferred programming language here to learn how to write your own code with Phidgets!
General Phidget Programming - Read this general guide to the various aspects of programming with Phidgets. Learn how to log data into a spreadsheet, use Phidgets over the network, and much more.
Phidget22 API - The API is a universal library of all functions and definitions for programming with Phidgets. Just select your language and device and it'll give you a complete list of all properties, methods, events, and enumerations that are at your disposal.
Enclosures
You can protect your board from dust and debris by purchasing an enclosure. An enclosure will also prevent unintentional shorts caused by objects touching the pins on the bottom of the board or any terminal screws.
Product
Physical Properties
Image
Part Number
Price

Material

3806_2

$7.00

Clear Acrylic
USB Cables
Use a USB cable to connect this Phidget to your computer. We have a number of different lengths available, although the maximum length of a USB cable is 5 meters due to limitations in the timing protocol. For longer distances, we recommend that you use a Single Board Computer to control the Phidget remotely.
Product
Physical Properties
Image
Part Number
Price
Connector A
Connector B
Cable Length
3017_1

$3.00

USB Type A
USB Mini-B

280 mm

3018_0

$5.00

USB Type A
USB Mini-B

1.8 m

3020_0

$12.00

USB Type A
USB Mini-B

4.5 m

3036_0

$3.50

USB Type A
USB Mini-B

600 mm

3037_0

$4.00

USB Type A
USB Mini-B

1.2 m
Spatials
The PhidgetGPS can work well with a Phidget Spatial, because data from the two boards can be combined to give you a clearer picture of how the object in question is moving around. For example, the GPS could provide coarse data on where an object is located, and the accelerometer could be used for finer detail in movement. Additionally, the compass data could be compared to the GPS heading for increased accuracy on the direction you are facing. Here are a list of Phidget Spatials:
Product
Accelerometer
Gyroscope
Magnetometer
Image
Part Number
Price

Acceleration Measurement Max

Acceleration Measurement Resolution

Gyroscope Speed Max

Gyroscope Resolution

Magnetometer Resolution

Magnetic Field Max

1041_0B

$40.00

± 8 g

976.7 μg

—
—
—
—
1042_0B

$70.00

± 8 g

976.7 μg

± 2000°/s

0.07°/s

3 mG

5.5 G

1043_0B

$80.00

± 2 g

76.3 μg

—
—
—
—
1044_0B

$140.00

± 2 g

76.3 μg

—
—

3 mG

5.5 G

MOT1100_0

$20.00

± 8 g

1 mg

—
—
—
—
MOT1101_0

$30.00

± 8 g

1 mg

± 2000°/s

* 0.07°/s

300 μG

± 8 G