Replaced by the 1043 - PhidgetSpatial 0/0/3 High Resolution.
The 1049 - PhidgetSpatial 0/0/3 measures static and dynamic acceleration in 3 axes, up to 5g, and provides a high sampling speed of up to 1000 samples per second.
Each accelerometer axis is calibrated at the factory for cross-axis misalignment, sensitivity to positive and negative acceleration, and offset.
The 1049 can be used to:
Sense tilt in remotely operated vehicles.
Capture motion input for gaming or for Human Interface Research.
Capture long term vibration data to help with the analysis of machinery performance.
Detect movement or presence by measuring structural vibration.
Comes packaged with
A Hardware mounting kit (4 nuts and bolts, 4 plastic spacers)
Product Specifications
Accelerometer

Acceleration Measurement Resolution

3.7 mg

Acceleration Bandwidth

110 Hz

Acceleration Measurement Max

± 5 g

Axis 0 Noise Level (X-Axis)

2 mg

Axis 1 Noise Level (Y-Axis)

2 mg

Axis 2 Noise Level (Z-Axis)

2 mg

Board

API Object Name

Accelerometer

Sampling Speed Min

1 s/sample

Sampling Speed Max

1 ms/sample

Sampling Speed Min (Webservice)

1 s/sample

Sampling Speed Max (Webservice)

16 ms/sample

USB Voltage Min

4.4 V DC

USB Voltage Max

5.3 V DC

Current Consumption Max

22 mA

USB Speed

Full Speed

Operating Temperature Min

0 °C

Operating Temperature Max

70 °C
Software Objects
| Device | Object Name | Channel |
| --- | --- | --- |
| 3-Axis Accelerometer | Accelerometer | 0 |
Related Products
If you need an accelerometer with higher resolution and lower noise have a look at:
The 1056 PhidgetSpatial 3/3/3 provides 16 times better resolution on the acceleration data, but is limited to 250 samples per second.
Enclosure
You can protect your board by purchasing the 3811 - Acrylic Enclosure for the 1049.
Documents
Code Samples
Product History
Getting Started
Welcome to the 1049 user guide! In order to get started, make sure you have the following hardware on hand:

Next, you will need to connect the pieces: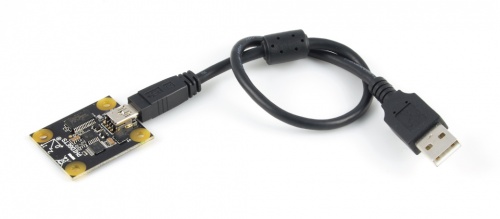 Connect the PhidgetSpatial to your computer using the USB cable.

Now that you have everything together, let's start using the 1049!
Using the 1049
Phidget Control Panel
In order to demonstrate the functionality of the 1049, the Phidget Control Panel running on a Windows machine will be used.

The Phidget Control Panel is available for use on both macOS and Windows machines. If you would like to follow along, first take a look at the getting started guide for your operating system:

Linux users can follow the getting started with Linux guide and continue reading here for more information about the 1049.
First Look
After plugging the 1049 into your computer and opening the Phidget Control Panel, you will see something like this: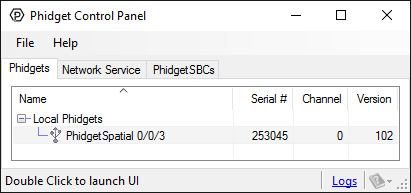 The Phidget Control Panel will list all connected Phidgets and associated objects, as well as the following information:
Serial number: allows you to differentiate between similar Phidgets.
Channel: allows you to differentiate between similar objects on a Phidget.
Version number: corresponds to the firmware version your Phidget is running. If your Phidget is listed in red, your firmware is out of date. Update the firmware by double-clicking the entry.

The Phidget Control Panel can also be used to test your device. Double-clicking on an object will open an example.
Accelerometer
Double-click on the Accelerometer object, labelled PhidgetSpatial 0/0/3, in order to run the example: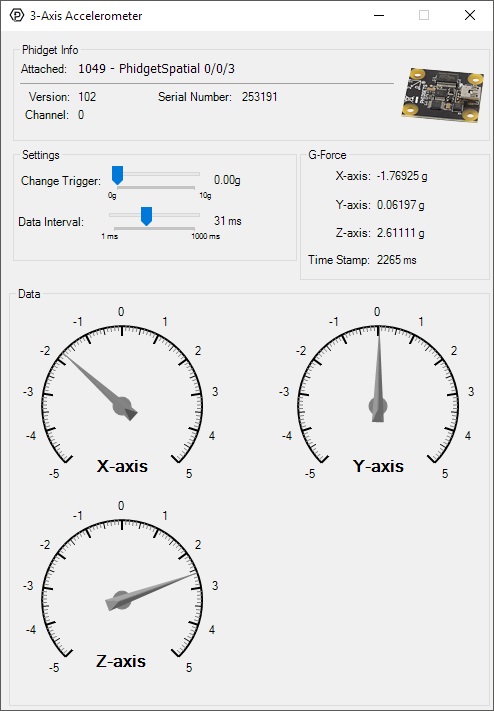 General information about the selected object will be displayed at the top of the window. You can also experiment with the following functionality:
Modify the change trigger and/or data interval value by dragging the sliders. For more information on these settings, see the data interval/change trigger page. Try tilting the 1049 in different directions to see the labels and graphics change.
An extremely accurate timestamp is also reported with the g-force values.
Technical Details
For more information on testing and calibrating this device, check the Accelerometer Primer.
What to do Next
Software Overview - Find your preferred programming language here to learn how to write your own code with Phidgets!
General Phidget Programming - Read this general guide to the various aspects of programming with Phidgets. Learn how to log data into a spreadsheet, use Phidgets over the network, and much more.
Phidget22 API - The API is a universal library of all functions and definitions for programming with Phidgets. Just select your language and device and it'll give you a complete list of all properties, methods, events, and enumerations that are at your disposal.
Software Objects
| Channel Name | API | Channel |
| --- | --- | --- |
| 3-Axis Accelerometer | Accelerometer | 0 |
API