USB Adapter
The wireless USB adapter comes with a removable antenna and is fully compatible with 802.11b/g Wi-Fi standards. We ran throughput tests on this adapter running on the 1073 - PhidgetSBC3 using the Iperf network testing tool. At a range of approximately 10 meters through walls in our office, an average of 4.17 Mbps was recorded. Throughput depends on many variables including the performance of the computer running it and the operating system being used. You can read more of our test results here.
Antenna
This compact 2.4GHz omni directional Wi-Fi antenna provides broad coverage and 3 dBi gain. It is a coaxial sleeve design with an omni-directional pattern.
This flexible antenna features a tilt-and-swivel reverse-polarity SMA connector, allowing them to be used vertically, at a right angle, or any angle in-between.
Packaging
The Wi-Fi comes packaged in a resealable plastic bag and includes:
A Wi-Fi dongle adapter
An RP-SMA Antenna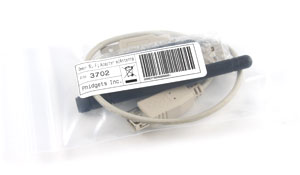 Connection
Connect the antenna to the dongle using the SMA connector, and then plug the adapter into a USB port on the 1072 – PhidgetSBC2 using the Extender Cable. If you're using the 1073 - PhidgetSBC3, we recommend the 3703 - Wi-Fi USB Adapter 802.11n.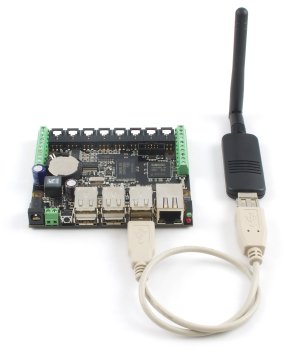 Product Specifications
Antenna
Wireless Communication Standard
IEEE802.11b/g

Communication Frequency

2.4 GHz

Antenna Gain

3 dBi

Transmitter Power Max

15 dBm

Transmission Range Max (Noisy Environment)

30 m

Transmission Range Max (Optimal Environment)

200 m

USB Adapter
I/O Communication Protocol
USB 2.0 / 1.1

Data Rate Average

4.2 Mbit/s

Current Consumption Max

200 mA

Physical Properties

Material

Thermoplastic Polyurethane

Operating Temperature Min

-20 °C

Operating Temperature Max

60 °C

Connector A
USB Male A
Connector B
RP SMA Female Jack

Weight

9.6 g

Customs Information

Canadian HS Export Code

8473.30.00

American HTS Import Code

8473.30.51.00

Country of Origin

CN (China)
Documents
Drivers
The adapter driver is already loaded on the 1072 – PhidgetSBC. For more information, consult the 1072 User Guide.
Should you want to use the adapter on your PC, download the following file:
Certification