CONNECT SENSORS. WRITE CODE. BRING IDEAS TO LIFE.
Elevate your STEM class with Phidgets
We give STEM educators the tools to engage students and help them learn through hands-on, self-guided activities.
Give your students tools, not toys. Phidgets are real-world devices that help engage students and prepare them for their future in STEM.
Why Educators Choose Phidgets
Easy
Get started quickly
With our pre-engineered kits and self-guided tutorials, any teacher, regardless of skill level, can have their students coding and creating in no time.
View the Getting Started Kit
Supported
Pick your environment
We support all mainstream operating systems and programming languages. Whether you're creating a robot using Java or an interactive iOS app, we have you covered
View supported environments
Real
Provide tools, not toys
For over 15 years, thousands of STEM professionals have used Phidgets to solve their problems. Give your students a tool that they can take with them.
View real-world examples
What Educators are Saying
We are loving our work with Phidgets this year! The kids are so motivated and it is helping make this difficult year a little less cruddy!
Wilson School District, Pennsylvania
Michelle Campbell
Gifted support teacher
I purchased a classroom set of Getting Started Kits and am loving the hands-on computing in my Java class!
The Seven Hills School, Ohio
Marcus Twyford
Computer science teacher
Don't hesitate, get Phidgets for your classroom! They are so easy to use and there are tutorials, projects, and support readily available.
Anglophone South School District, New Brunswick
Michael Corasaniti
Computer science teacher
A success! The clear instructions were easy to follow and students thought the Phidgets project was fun and interesting to code. They even spent extra time personalizing it.
School District No. 43, British Columbia
Dennis Wong
Computer science teacher
Phidgets give my Computer Science students a chance to connect to the physical world with a well-developed, professional API.
Regina Catholic School Division, Saskatchewan
Nathan Birrell
Computer science teacher
Phidgets aren't limiting like other platforms. They've allowed my students to extend their projects further in computer science, robotics, and even with Unity.
Calgary Catholic School District, Alberta
Jason Villenueve
Computer science teacher
I'm Interested! Where Do I Start?
The Getting Started Kit provides an introduction to students and teachers. We offer a self-guided, online curriculum with challenges and projects for students.
• Programming languages: Python, Java, C#, Swift, Scratch, MakeCode
• Device compatibility: Windows, macOS, Raspberry Pi, Chromebook
• What's in the box: VINT Hub, Push Buttons (2), LEDs (2), Humidity Phidget and all required cables
• Suitable for school grades: 6+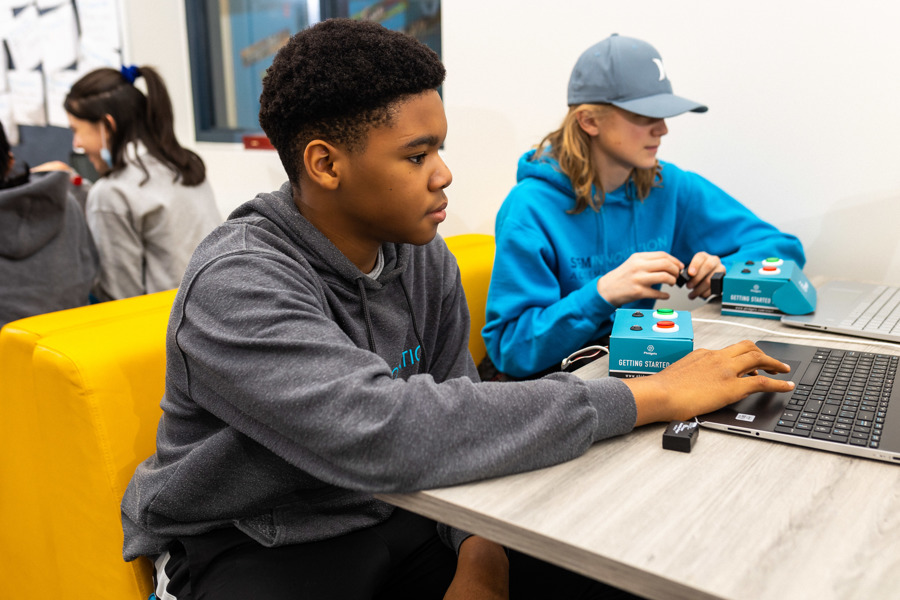 Frequently Asked Questions
What is a Phidget?
Phidgets are programmable USB sensors. With Phidgets, students can simply connect a sensor to their computer, write code in their favorite language and start exploring!
What Types of Phidgets Are There?
There are hundreds of Phidgets available. From simple light sensors to sophisticated motor controllers. The most popular sensors are supported by tutorials, projects and more. View them here.
Are Phidgets Used by Professionals?
Yes! Thousands of engineers, researchers and computer scientists use Phidgets every day. Visit phidgets.com/real for more information.
What Programming Languages Are Supported?
You can use Phidgets with Python, Java, C# and Swift.
You can also use browser-based environments like MakeCode and Scratch which offer block-based programming, JavaScript and Python.
What Operating Systems Are Supported?
You can use Phidgets with all major operating systems. This includes Windows, macOS and Linux.
Can Phidgets Connect to a Raspberry Pi?
Can Phidgets Connect to an Arduino, micro:bit, etc.?
Generally, no. Phidgets must be connected to a computer running Windows, macOS or Linux. They can also be used through a modern browser.
Do I Need to Install Anything on My Computer?
An install is required for macOS users. For more information, visit the Getting Started Kit tutorial, select macOS as your operating system, and navigate to the Install section.
No install is required for browser-based coding (MakeCode/Scratch), regardless of operating system.