The Sinokoko P5H series of linear actuators are high-torque DC motors geared to push or pull a load along the stroke of the actuator. This actuator comes with a built-in potentiometer, allowing your application to monitor the actuator's position.
The 3545 linear actuator has a stroke length of 150mm, can move at a rate of 24 mm/s and can extert up to 350N of force at lower speeds.
Product Specifications
Motor Properties

Motor Type

DC Linear Actuator

Stroke Length

150 mm

Maximum Speed

24 mm/s

Peak Power Point

350 N

Electrical Properties

Rated Voltage

24 V DC

Potentiometer Impedance

5 kΩ

Physical Properties

Material

Aluminium Alloy

Gear Train Material

Powder Metallurgy

IP Rating

IP56

Weight

995 g

Operating Temperature Min

-25 °C

Operating Temperature Max

65 °C
Documents
DC Motor Controllers
You'll need a motor controller to get control of the position of this actuator. In order to connect it to a controller, attach the red wire to the "+" terminal on the controller, and the black wire to the "-" terminal.
If you decide to use a motor controller with an analog input, you can connect the integrated potentiometer by soldering the wires to a Phidget cable and connecting it to the input. If you decide to use a stand-alone motor controller, you'll also need a device with an analog input to read the potentiometer.
Product
Controller Properties
Electrical Properties
Board Properties
Image
Part Number
Price
Number of Motor Ports

Velocity Resolution

Acceleration Resolution

Continuous Motor Current Max

Controlled By

1064_1

$120.00

2

0.79 % Duty Cycle

1.9 % Duty Cycle/s

(per motor) 14 A

USB
1065_0

$80.00

1

0.39 % Duty Cycle

24.5 % Duty Cycle/s

5 A

USB
DCC1000_0

$75.00

1

0.001 % Duty Cycle

1 % Duty Cycle/s

25 A

VINT
Phidget Cables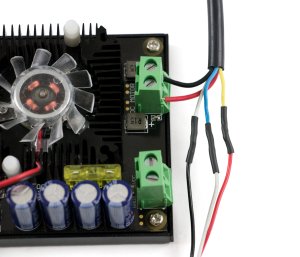 To easily connect the internal potentiometer to an IO board we recommend you use a Phidget cable. You can solder multiple cables together in order to make even longer Phidget cables, but you should be aware of the effects of having long wires in your system. The following table describes how to wire the potentiometer to the Phidget cable:
| Wire Color | Function |
| --- | --- |
| White | Potentiometer Ground |
| Blue | Potentiometer Wiper |
| Red | Actuator Motor Power |
| Black | Actuator Motor Ground |
| Yellow | Potentiometer Power |
If you want an actuator with different specifications you can compare them all below:
Product
Motor Properties
Electrical Properties
Physical Properties
Image
Part Number
Price

Stroke Length

Maximum Speed

Peak Power Point

Peak Efficiency Point

Gear Ratio

Rated Voltage

Weight

3545_0

$100.00

150 mm

24 mm/s

350 N

—
—

24 V DC

995 g

3546_0

$100.00

150 mm

10 mm/s

750 N

—
—

24 V DC

1 kg

3547_0

$100.00

300 mm

24 mm/s

350 N

—
—

24 V DC

1.2 kg

3548_0

$100.00

300 mm

10 mm/s

750 N

—
—

24 V DC

1.2 kg

3570_0

$80.00

50 mm

32 mm/s

(@ 16 mm/s) 50 N

(@ 24 mm/s) 24 N

35:1

12 V DC

56 g

3571_0

$80.00

100 mm

32 mm/s

(@ 16 mm/s) 50 N

(@ 24 mm/s) 24 N

35:1

12 V DC

74 g

3572_0

$80.00

140 mm

32 mm/s

(@ 16 mm/s) 50 N

(@ 24 mm/s) 24 N

35:1

12 V DC

84 g

3573_0

$80.00

50 mm

20 mm/s

(@ 10 mm/s) 75 N

(@ 15 mm/s) 38 N

63:1

12 V DC

56 g

3574_0

$80.00

100 mm

20 mm/s

(@ 10 mm/s) 75 N

(@ 15 mm/s) 38 N

63:1

12 V DC

74 g

3575_0

$80.00

140 mm

20 mm/s

(@ 10 mm/s) 75 N

(@ 15 mm/s) 38 N

63:1

12 V DC

84 g

3576_0

$80.00

50 mm

8 mm/s

(@ 4 mm/s) 175 N

(@ 7 mm/s) 75 N

150:1

12 V DC

56 g

3577_0

$80.00

100 mm

8 mm/s

(@ 4 mm/s) 175 N

(@ 7 mm/s) 75 N

150:1

12 V DC

74 g

3578_0

$80.00

140 mm

8 mm/s

(@ 4 mm/s) 175 N

(@ 7 mm/s) 75 N

150:1

12 V DC

84 g