The CE-IZ04-35 series of DC transducers are a set of hall-effect based sensors that can measure the amount of current flowing through a wire simply by threading the wire through the sensor's window. You can thread the same wire through multiple times and divide the result by the number of times it's been threaded through in order to achieve higher resolution. This sensor can measure Current in either direction; from -250 to 250 Amps. A bi-directional current sensor is ideal for applications when the direction of the current is not guaranteed to always flow the same way- for example, you could measure the current output of a battery, and also monitor the current consumed by the battery when it is charging. You can convert from output voltage with the following formula:
Current (A) = (Vout * 100) - 250
Connection
You can use a ±12V sensor adapter to connect this sensor to your InterfaceKit or Hub. See the Compatible Products tab for more details.
Device Pinout: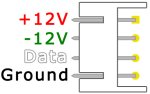 Product Specifications
Sensor Properties

Controlled By

±12V Adapter
Sensor Type
Current (DC Through-Hole)

Sensor Output Type

Non-Ratiometric

Input Current Min

-250 A

Input Current Max

250 A

Current Measurement Resolution

500 mA

Measurement Error Max

1 %

Sensor Response Time Max

7 μs

Electrical Properties

Supply Voltage

± 12 V DC

Current Consumption Max

25 mA

Output Voltage Min

0 V DC

Output Voltage Max

5 V DC

Physical Properties

Wire Window Size

23 mm

Operating Temperature Min

-10 °C

Operating Temperature Max

80 °C
Documents
±12V Sensor Adapter
These current transducers (and many like them) require both +12V and -12V supplied to them in order to function. Luckily for you, we've created an adapter that will handle this oddity and take the 5 volts from a Phidget InterfaceKit or Hub and produce ±12V for these sensors. The adapter comes with a cable that will connect itself to this sensor.
Product
Sensor Properties
Image
Part Number
Price

Controlled By

1145_0

$11.00

Voltage Input (0-5V)
Have a look at our current sensors:
Product
Sensor Properties
Image
Part Number
Price
Sensor Type

Controlled By

Input Current Min

Input Current Max

Current Measurement Resolution

1122_0

$31.00

Current (AC/DC In-Line)
VoltageRatio Input

± 75 mA

± 30 A

—
3500_0

$40.00

Current (AC Through-Hole)
Voltage Input (0-5V)

0 A

10 A

10 mA

3501_0

$40.00

Current (AC Through-Hole)
Voltage Input (0-5V)

0 A

25 A

25 mA

3502_0

$40.00

Current (AC Through-Hole)
Voltage Input (0-5V)

0 A

50 A

50 mA

3503_0

$40.00

Current (AC Through-Hole)
Voltage Input (0-5V)

0 A

100 A

100 mA

3511_0

$95.00

Current (DC In-Line)
Voltage Input (0-5V)

0 A

10 mA

—
3513_0

$95.00

Current (DC In-Line)
Voltage Input (0-5V)

0 A

1 A

—
3584_0

$40.00

Current (DC Through-Hole)
±12V Adapter

0 A

50 A

50 mA

3585_0

$35.00

Current (DC Through-Hole)
±12V Adapter

0 A

100 A

100 mA

3586_0

$35.00

Current (DC Through-Hole)
±12V Adapter

0 A

250 A

250 mA

3587_0

$40.00

Current (DC Through-Hole)
±12V Adapter

-50 A

50 A

100 mA

3588_0

$35.00

Current (DC Through-Hole)
±12V Adapter

-100 A

100 A

200 mA

3589_0

$35.00

Current (DC Through-Hole)
±12V Adapter

-250 A

250 A

500 mA

VCP1100_0

$25.00

Current (DC In-Line Hall Effect)
VINT

-30 A

30 A

1.1 mA