This DC Voltage sensor measures DC voltage up to 200V. Powered by an external 12VDC power supply, the DC Voltage Sensor provides a 0 to 5VDC analog signal that is linearly proportional to the voltage measured at the terminal blocks.
The DC Voltage Sensor can easily be mounted using the screw holes, or on a 35mm wide DIN rail for quick installation. The terminal blocks accommodate conductors of up to AWG #16.
The voltage sensor connects to an analog input on Phidgets I/O boards. The formula to translate the output voltage into measured voltage is:
V = Vout * 40
Connection
You can use a 12V sensor adapter to connect this sensor to your InterfaceKit or Hub. See the Compatible Products tab for more details.
Product Specifications
Sensor Properties
Sensor Type
Voltage (DC)

Sensor Output Type

Non-Ratiometric

Input Voltage Min (DC)

0 V DC

Input Voltage Max (DC)

200 V DC

Measurement Error Max

0.5 %

Sensor Response Time Max

400 ms

Electrical Properties

Supply Voltage Min

12 V DC

Supply Voltage Max

12 V DC

Current Consumption Max

4.2 mA

Isolation Voltage (DC)

2.5 kV DC

Output Voltage Min

0 V DC

Output Voltage Max

5 V DC

Physical Properties

Recommended Wire Size

12 - 24 AWG

Operating Temperature Min

0 °C

Operating Temperature Max

50 °C
12V Sensor Adapter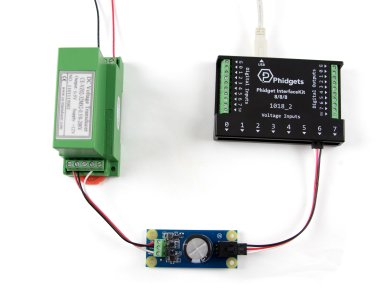 This voltage sensor requires a 12V power supply and outputs a 0-5V signal depending on the voltage measurement. For a simple way to provide 12 volts, you can use our 12V sensor adapter. It uses the 5V supply from your InterfaceKit or Hub and steps it up to 12V while simultaneously passing the 0-5V signal from the sensor into the Phidget cable.
To connect the sensor, connect the terminals as follows:
| Function | 3509 - Voltage Sensor | 1144 - 12V Sensor Adapter |
| --- | --- | --- |
| +12V | 5 | +12V |
| Ground | 6 | GND |
| Data | 8 | ANLG |
Product
Sensor Properties
Image
Part Number
Price

Controlled By

1144_0

$11.00

Voltage Input (0-5V)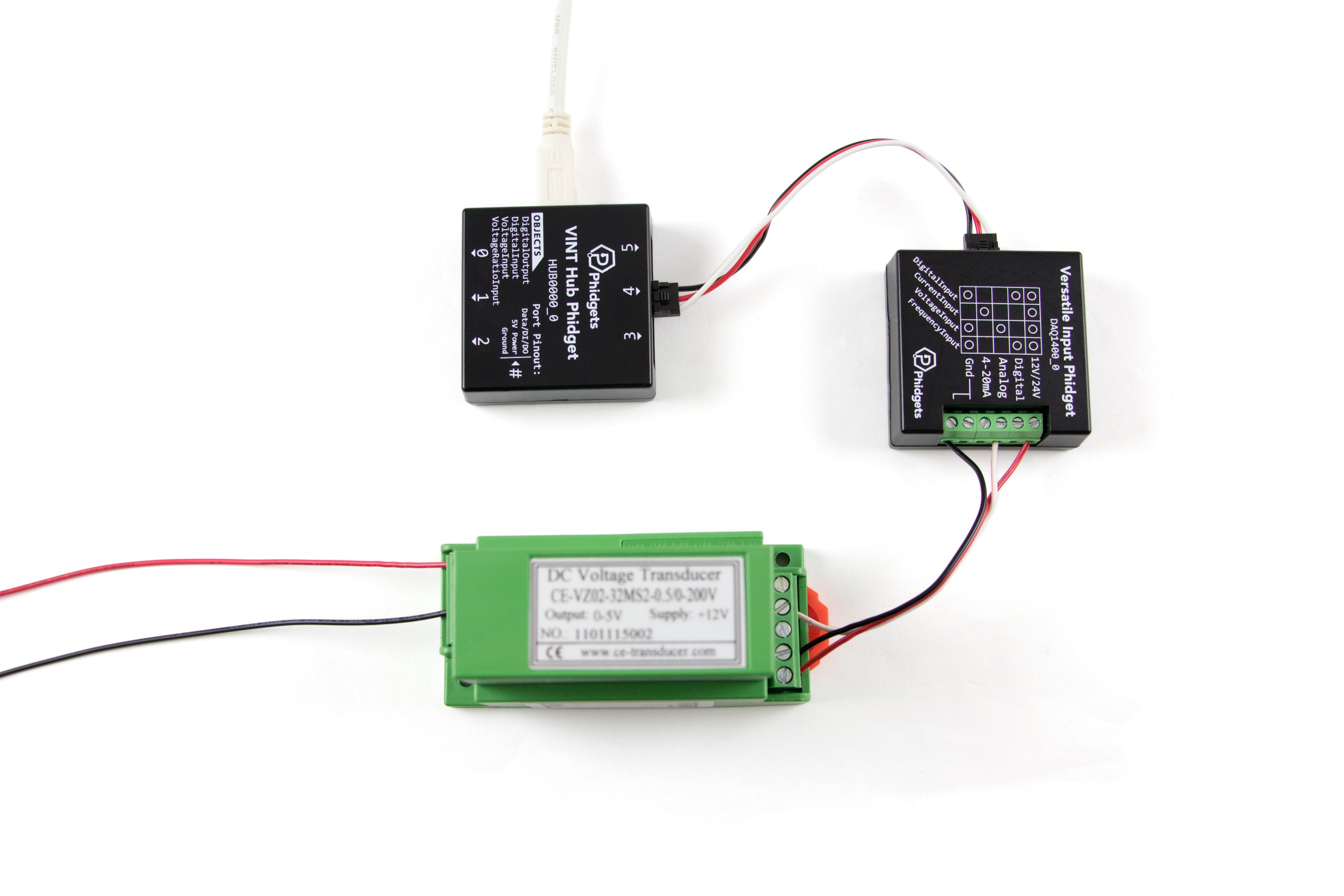 Alternatively, you can use the Versatile Input Phidget, which is a VINT-controlled device that can interface a wide variety of sensors, including transducers that run on a 12V supply.
To connect the sensor, connect the terminals as follows:
| Function | 3509 - Voltage Sensor | DAQ1400 - Versatile Input Phidget |
| --- | --- | --- |
| +12V | 5 | 12V/24V |
| Ground | 6 | Gnd |
| Data | 8 | Analog |
Product
Board Properties
Image
Part Number
Price

Controlled By

DAQ1400_0

$20.00

VINT
Hook-up Wire
You may need hook-up wire to connect this sensor's terminals to your 12V Sensor Adapter. Here's a list of wire that we sell for this purpose:
Here are the voltage sensors we have available:
Product
Voltage Sensor
Sensor Properties
Image
Part Number
Price

Voltage Difference Max

Input Voltage Min (DC)

Input Voltage Max (DC)

1135_0

$19.00

± 30 V DC

—
—
3507_0

$115.00

—
—
—
3508_0

$115.00

—
—
—
3509_1

$115.00

—

0 V DC

200 V DC

DAQ1400_0

$20.00

—
—
—
VCP1000_0

$50.00

± 40 V DC

—
—
VCP1001_0

$25.00

± 40 V DC

—
—
VCP1002_0

$25.00

± 1 V DC

—
—