3302_0 - NEMA-17 Bipolar 48mm Stepper (0.9° Step Angle) - Discontinued
Product Features
This precise bipolar stepper has a 0.9° step angle and 4.28 kg·cm of torque at low speeds.
Replaced by the 3340_0, the same motor with a rear shaft and encoder mounting holes.
Product Description
This motor is a larger NEMA-17 motor that produces a whopping 4800g-cm of holding torque and fine resolution. The motor is also very efficient in converting current into torque and velocity.
Motor Controller and Connection
The 3302 stepper motor connects to a bipolar motor controller such as the 1067 - PhidgetStepper Bipolar HC.
The following diagram shows how to connect the motor wires to the board connectors to produce a clockwise rotation in the stepper motor when increasing position. To wire for counter-clockwise rotation when increasing position, reverse the red and blue wires.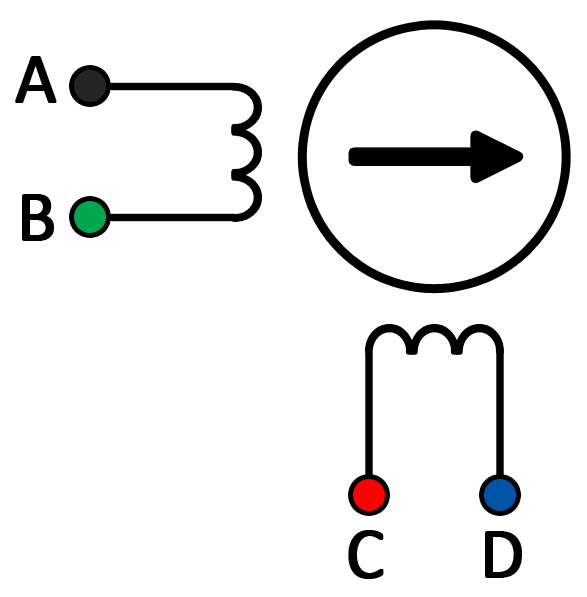 Note: Make sure to unplug the power cord from the motor controller before switching wires around.
Mounting Bracket
The mounting holes on this motor are compatible with the 3338 - Mounting Bracket (NEMA17).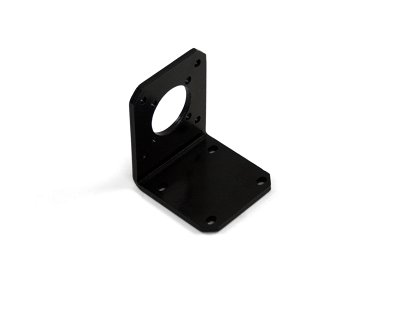 Warning
| | |
| --- | --- |
| | Connecting the motor directly to a power supply will destroy the motor and void the warranty. If you want to check your motor make sure it is connected to a constant current / chopper drive controller. |
Product Specifications
Motor Properties
Motor Type
Bipolar Stepper
Manufacturer Part Number
42BYGHM810
Step Angle
0.9°
Step Accuracy
5 %
Holding Torque
4.8 kg·cm
Rated Torque
4.3 kg·cm
Maximum Speed (w/1063 Motor Controller)
300 RPM
Maximum Speed (w/1067 Motor Controller)
2344 RPM
Acceleration at Max Speed
(w/1067 Motor Controller)
2.4E+06 1/16 steps/sec²
Electrical Properties
| | |
| --- | --- |
| Recommended Voltage | 12 V DC |
| Rated Current | 2.4 A |
| Coil Resistance | 1 Ω |
| Phase Inductance | 1.8 mH |
Physical Properties
| | |
| --- | --- |
| Shaft Diameter | 5 mm |
| Mounting Plate Size | NEMA - 17 |
| Weight | 362 g |
| Number of Leads | 4 |
| Wire Length | 300 mm |
Resources