1056_0 - PhidgetSpatial 3/3/3 - Discontinued
What's changed with the 1044?
The 1044 - PhidgetSpatial 3/3/3 High Resolution functions very similarly to the 1056. It has the same dimensions and fits the same enclosure. The API functions and events are also the same.

The main difference is that some of the chips used to make the 1056 have gone obsolete and are no longer available. The 1044 features new accelerometer, gyroscope, and compass chips, as well as additional "backup" accelerometer and gyroscope chips that have a wider measurement range but lower accuracy. The result is a spatial with high accuracy within a certain range, and low accuracy beyond that range. For specific numbers, check the specification table on the 1044 - PhidgetSpatial 3/3/3 High Resolution product page.

You may also be interested in the 1042 - PhidgetSpatial 3/3/3 Basic; a simple spatial based on the 1044, but offered at a drastically reduced cost. It has the same measurement range, but doesn't have the extra resolution at lower measurement values that the 1044 has.
Product Description
The 1056 - PhidgetSpatial 3/3/3 measures static and dynamic acceleration in 3 axes, up to 5g.; it also measures magnetic field in 3-axes up to ±4 Gauss and finally measures angular rotation in 3 axes, up to ±400° per second.
With the 1056, you are getting a lot more than 3 sensor chips slapped on a board. The 1056 has been rigorously tested to ensure that the output data correlates to physical real life motion, instead of relying solely on sensor data sheets for device specifications. We also use precise voltage supply filtering to guarantee low noise and correct sensor operation.
Auto-Calibration
The Compass is continuously calibrated for changes in sensitivity and offset. Errors introduced by magnetic fields and distortion of the earth's magnetic field may be compensated out by using our calibration program to calculate the correction factors to feed the device.
Each Gyroscope axis is calibrated at the factory for sensitivity to rotation and cross-axis mis-alignment.
Each accelerometer axis is calibrated at the factory for cross-axis misalignment, sensitivity to positive and negative acceleration, and offset.
Resources

Use the following program to correct for magnetic errors in your application:
It's also a good idea to read the Application Note before using the program
Enclosure
You can protect your board by purchasing the 3851 - Plastic Shell Enclosure for Spatials.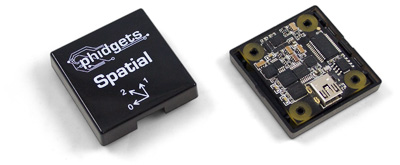 Product Specifications
Compass
| | |
| --- | --- |
| Compass Resolution | 400 μG |
| Offset from North | 2° |
Gyroscope
| | |
| --- | --- |
| Gyroscope Speed Max | 400°/s |
| Gyroscope Resolution | 0.02°/s |
| Gyroscope Drift | 4°/min |
Accelerometer
| | |
| --- | --- |
| Acceleration Measurement Resolution | 228 μg |
| Acceleration Bandwidth | 110 Hz |
| Acceleration Measurement Max | ± 5 g |
| Axis 0 Noise Level (X-Axis) | 300 μg |
| Axis 1 Noise Level (Y-Axis) | 300 μg |
| Axis 2 Noise Level (Z-Axis) | 500 μg |
| Error Through Rotation | 2 mg |
Board
| | |
| --- | --- |
| API Object Name | Spatial |
| Current Consumption Max | 45 mA |
| Sampling Speed Min | 1 s/sample |
| Sampling Speed Max | 4 ms/sample |
| Sampling Speed Min (Webservice) | 1 s/sample |
| Sampling Speed Max (Webservice) | 16 ms/sample |
| Analog to Digital Converter Resolution | 16 bit |
| USB Voltage Min | 4.8 V DC |
| USB Voltage Max | 5.3 V DC |
| USB Speed | Full Speed |
| Operating Temperature Min | 0 °C |
| Operating Temperature Max | 70 °C |
Comes packaged with
A Hardware mounting kit (4 nuts and bolts (M3), 4 plastic spacers)