3265_0 - 12V/0.5Kg-cm/670RPM 3.7:1 DC Gear Motor
Product Features
This DC motor has a 3.7:1 gearbox, a rated speed of 670 RPM and rated torque of 0.54 Kg·cm.
Product Description
The 3265 is a 12 volt gear motor, generating 0.54 Kg-cm of torque at 670 RPM. It's a standard-sized motor suitable for low-torque, high-speed applications. Since this motor has a lower power output for its size, you can expect it to have a longer lifespan than other motors.

The planetary gearbox on this motor is more sophisticated than a typical spur gearbox and will provide greater efficiency, higher torque, and quieter motor operation.
Motor Controller and Connection
The 3265 DC motor connects to either of the following controllers:
Related Products
The mounting holes on this motor are compatible with the 3338 - Mounting Bracket (NEMA17).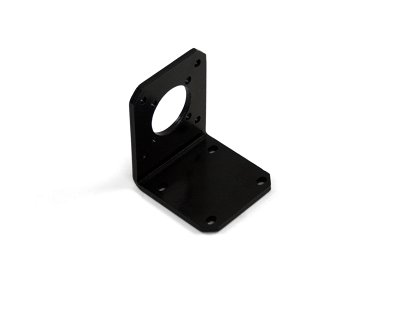 Resources
Product Specifications
Motor Properties
| | |
| --- | --- |
| Motor Type | DC Motor |
| Output Power (Mechanical) | 3.8 W |
| Maximum Speed at Rated Voltage | 670 RPM |
| Rated Torque | 540 g·cm |
| Stall Torque | 3.4 kg·cm |
Electrical Properties
| | |
| --- | --- |
| Rated Voltage | 12 V DC |
| Rated Current | 650 mA |
| Stall Current | 2.4 A |
Physical Properties
| | |
| --- | --- |
| Shaft Diameter | 8 mm |
| Wire Length | 350 mm |
| Weight | 416 g |
Gearbox Specifications
| | |
| --- | --- |
| Gearbox Type | Planetary |
| Gear Ratio | 3 12⁄17 : 1 |
| Number of Gear Trains | 1 |
| Maximum Strength of Gears | 9 kg·cm |
| Shaft Maximum Axial Load | 50 N |
| Shaft Maximum Radial Load | 35 N |
| Backlash Error | 3° |