1044_0 - PhidgetSpatial Precision 3/3/3 High Resolution
Product Features
This spatial board has a 3-axis accelerometer, gyroscope and compass with high resolution measurements at low magnitudes.
Product Description
The PhidgetSpatial Precision 3/3/3 combines the functionality of a 3-axis compass, a 3-axis gyroscope, and a 3-axis accelerometer all in one convenient package. It has enhanced precision in the accelerometer when measuring less than ±2g, and enhanced gyroscope precision at speeds less than 100°/s. The transition from high precision to low precision mode and back is completely seamless and automatic.

If precision is not an important factor for your application, consider the 1042 - PhidgetSpatial 3/3/3 instead.

The 1044 could be used to:
Provide spatial data for a remote control vehicle
Capture motion input data for research purposes
Gather motion statistics for moving objects
Resources
Use the following program to correct for magnetic errors in your application:
Comes Packaged with
A Hardware mounting kit (4 nuts and bolts (M3), 4 plastic spacers)
Enclosure
You can protect your board by purchasing the 3851 - Plastic Shell Enclosure for Spatials.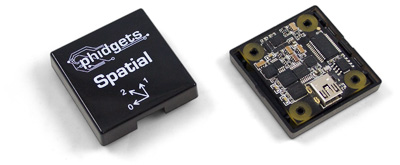 Product Specifications
Precision Accelerometer
| | |
| --- | --- |
| Acceleration Measurement Max | ± 2 g |
| Acceleration Measurement Resolution | 76.3 μg |
| Acceleration Bandwidth | 497 Hz |
| Accelerometer White Noise σ | 280 μg |
| Accelerometer Minimum Drift σ | 40.6 μg |
| Accelerometer Optimal Averaging Period | 398 s |
Backup Accelerometer
| | |
| --- | --- |
| Acceleration Measurement Max | ± 8 g |
| Acceleration Measurement Resolution | 976.7 μg |
| Accelerometer White Noise σ | 2.8 mg |
Precision Gyroscope
| | |
| --- | --- |
| Gyroscope Speed Max (X-Axis, Y-Axis) | ± 400°/s |
| Gyroscope Speed Max (Z-Axis) | ± 300°/s |
| Gyroscope Resolution (X-Axis, Y-Axis) | 0.02°/s |
| Gyroscope Resolution (Z-Axis) | 0.013°/s |
| Gyroscope White Noise σ | 0.095°/s |
| Gryoscope Minimum Drift σ | 0.0042°/s |
| Gyroscope Optimal Averaging Period | 7743 s |
Backup Gyroscope
| | |
| --- | --- |
| Gyroscope Speed Max | ± 2000°/s |
| Gyroscope Resolution | 0.07°/s |
| Gyroscope White Noise σ | 0.59°/s |
Compass
| | |
| --- | --- |
| Magnetic Field Max | 5.5 G |
| Compass Resolution | 3 mG |
| Compass White Noise σ | 1.1 mG |
| Compass Minimum Drift σ | 78 μG |
| Compass Optimal Averaging Period | 1443 s |
Board
| | |
| --- | --- |
| API Object Name | Spatial |
| Current Consumption Max | 55 mA |
| Sampling Speed Min | 1 s/sample |
| Sampling Speed Max | 4 ms/sample |
| Sampling Speed Min (Webservice) | 1 s/sample |
| Sampling Speed Max (Webservice) | 12 ms/sample |
| Analog to Digital Converter Resolution | 16 bit |
| USB Voltage Min | 4.4 V DC |
| USB Voltage Max | 5.3 V DC |
| USB Speed | Full Speed |
| Operating Temperature Min | -40 °C |
| Operating Temperature Max | 85 °C |